Mommy and Me Swim Classes for NJ Kids and their Mommies/Daddies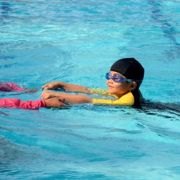 Looking for a way to introduce your baby to the pool? Parent-child swim classes are a great way to help our NJ kids develop a love of swimming and instill confidence around the water. Most programs allow children as young as 6 months to begin classes, and teach comfort with water in a safe and age appropriate way. Yes, it's hard to don that bikini so soon after having baby, but the rewards for your child are well worth the sacrifice! And for more enrichment choices, check out our Enrichment Programs, Classes and Activities for NJ Kids Guide.
NJ Swim Schools Chatham/Florham Park, Warren, Sparta, NJ
NJ Swim Schools offer year-round, private and small group developmental swim lessons for parents and children from ages and abilities. Their infant/toddler program is designed to provide families with a "positive introduction into the aquatic environment". Music and songs are used to help children and parents explore the water, and to build trust. Safety skills are the goal of these classes. Different levels of parent-child classes are offered as your child ages and improve their abilities and confidence. Chatham/Florham Park; (973) 377-7793, Warren; (973) 377-7793, Sparta; (973) 726-7226
Into the Swim Deptford, E. Brunswick, Edison, Princeton, Somerset, Springfield, Toms River, Voorhees, and Woodbridge, NJ
Baby & Me classes are offered at Into The Swim. Each child must be accompanied by an adult. Classes may have as many as 6 students per teacher. Most instructors are highly experienced and classes are designed to stress fun and comfort in the water. There are many locations and flexible scheduling so busy parents can fit classes into their schedule. Please check the website as Baby & Me classes are not offered in all locations.
Stevens Aquatics Hoboken, NJ
Parent-child classes for babies as young as 6 months. All classes are taught by certified instructors and balance fun with safety. Parent-child classes are centered on music and games, which builds aquatic competency and confidence. Classes are small, with no more than a 10:1 ratio between participants and instructors.
YMCA Various NJ Locations
The local YMCA is where I took my daughter for parent-child lessons when she was 6 months old. Classes were small and offered year-round. Songs were used to associate swimming with fun. The music helped the instructors introduce "skills" such as blowing bubbles, kicking feet, and floating. Class size was always small and manageable, and the cost for a block of lessons was reasonable. The YMCA considers swimming a "life skill" as well as great exercise and a challenging sport. YMCA's offer parent-child swim lessons, family swims, and many kinds of adaptive swim programs for kids with special needs, in the hope that everyone can safely enjoy an aquatic environment.