Best Family Picnic Spots in Northern NJ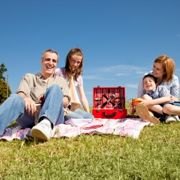 Fitting in quality family time seems more like a chore than an option these days. So instead of running errands, try packing up a basket for a family picnic at one of the many Northern New Jersey parks listed below or more choices throughout the state. Heck, why not even try having a picnic birthday party? And for even more summer awesomeness, check out our New Jersey Kids Summer Activities Guide.
 
Liberty State Park (Jersey City, NJ) The ultimate picnic location in Northern New Jersey. With amazing views of the Hudson, the Manhattan skyline, Ellis Island and the Statue of Liberty, families can enjoy a quiet lunch before hopping on a ferry ride, playing at the Liberty Science Center, venturing over to Lady Liberty, walking through the historic Central Railroad of New Jersey Terminal or riding through the park's flat walkways.  The park's newest addition, Empty Sky, is the breathtaking New Jersey September 11th Memorial.  The park is open daily from 6am to 10pm. For general questions, please call (201) 915-3400.
Van Saun County Park (Paramus, NJ) Six picnic areas, along with three pavilions provide many picnic options for those visiting Van Saun County Park. Families can also enjoy the baseball and softball fields, large playground, which is also handicap accessible, bike trails, soccer field, train ride, Walden Pond, historic Washington Spring Garden, Millennium Carousel and of course, the Bergen County Zoological Park. For park questions, please call (201) 261-7312.
Ringwood State Park (Ringwood, NJ) If you are looking to stay local for a day trip, make sure to visit Ringwood State Park. This Passaic County park is home to several Ramapo Mountain hiking trails, New Jersey Botanical Garden and the historic Ringwood Manor, along with the Shepherd Lake Recreation Area.  Barbeque grills and tables sit alongside a stream for relaxing afternoon outing. The park is open daily from 8am to 8pm. For more information, please call (973) 962-7031.
Bear Mountain State Park (Bear Mountain, NY) By crossing the border into New York, you are just a short drive away from Bear Mountain State Park. The park's Perkins Memorial Tower offers amazing views of the park, Harriman State Park and also the Hudson Highlands. Bear Mountain boosts shaded picnic groves, a large play field, a swimming pool, biking and hiking trail, along with Trailside Museum & Zoo. Paddle and row boats are available for rent at Hessian Lake. The Merry-Go-Round features 42 hand carved native animals including black bear, raccoons, bobcats, rabbits and more. The park is open daily from 8am to sunset. For general questions, please call (845) 786-2701.
South Mountain Reservation (West Orange/Maplewood/Millburn) This family-friendly area is home to the Turtle Back Zoo, the Richard J. Codey Arena, Mini Golf Safari, Washington Rock Lookout historic site, 19 miles of hiking, Hemlock Falls and Diamond Mill Pond on top of 10 separate picnic areas. The largest parkland in Essex County, the South Mountain Reservation has picnic areas at Mayapple Hill, Turtle Back Rock, Oakdale, Tulip Springs and Shady Nook and Bramhall Terrace and Summit Field. For more information, please call the Department of Parks, Recreation and Cultural Affairs at (973)268-3500.
Stokes State Forest (Branchville, NJ) Stokes State Forest offers two large picnic areas at Stony Lake and Kittle Field. The park is open daily from sunrise to sunset – something you won't want to miss from Sunrise Mountain. Kittle Field boosts a playgrounds, as well as baseball fields, while Stony Lake has 45 tables, with adjacent grills, conveniently near the beach. For questions or reservations, please call (973) 948-3820.
Here are some other great options in northern New Jersey:
Darlington County Park (Mahwah), Hacklebarney State Park (Chester), Hedden County Park (Dover), Lewis Morris Park (Morris Township), Loantaka Brook Reservation (Morris Township), Pascack Brook County Park (Westwood), Riverside County Park (Lyndhurst/North Arlington), Schooley's Mountain Park (Long Valley) and Wood Dale County Park (Woodcliff Lake).