25 Fun Things to Do with Kids in Jersey City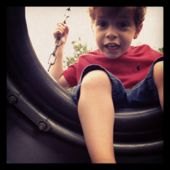 Jersey City is popular with families for its great neighborhoods, walkability and proximity to New York City. But who knew there was so much to do in this city with kids? (I sure didn't when we moved here four years ago!) From neighborhood hang-outs to super-fun classes to beautiful parks and playgrounds, JC is full of wonderful options for families. Read on for our top 25 picks—they should keep you busy for a while.
1. Spend the day at Liberty Science Center—navigate the Touch Tunnel, play outdoors in the Wildlife Challenge, see an IMAX movie and more! There's even a designated area (I Explore) just for younger kids ages 2-5 so it's a perfect destination for all ages.
2. Visit a local farmers' market to pick up fresh goodies: there are eight to choose from during the warmer months, spread all throughout the city (Van Vorst Park, Hamilton Park, Newport Mall, Grove Street, Journal Square, Paulus Hook, Riverview Fisk Park, Bramhall Farmers Market).
3. Sign your little one up for a music class! Jersey City offers several great options for budding musicians—choose from local favorites such as A Sound Start, Music for Aardvarks, Preschool of Rock and three little birds.
4. Looking for something to do on a rainy or super-hot day? The Jersey City Public Library is a wonderful resource. The main library on Jersey Ave has a great children's room and offers story time during winter and spring months, as do many of the neighborhood branches.
5. Get your ice cream fix at Torico, serving the most delicious cones in town! Choose from classic flavors like vanilla peanut butter and strawberry cheesecake or more exotic flavors such as lychee and papaya. Yummy!
6. Along the waterfront in Newport sits LeFrak Lighthouse, a red-and-white striped beauty situated on a comfy patch of lawn. Offering excellent views of the Manhattan skyline, it makes a great spot for a lazy afternoon picnic.
7. Head to the Barrow Mansion for a live performance of the Jersey City Children's Theater. Past shows include The Fabulous Fables of Aesop and The Golden Key. They also offer theater classes for kids ages 3 and up.
8. Jersey City offers many excellent parks for locals and visitors to enjoy. Some of our favorites include Hamilton Park, Lincoln Park, Van Vorst Park and Washington Park. With playground areas for the kiddies and spacious lawns for relaxing, these neighborhood jewels are the perfect place for a family outing.
9. Stop by Made with Love on Jersey Ave for a delicious organic treat—specialties include scones and cupcakes (my personal favorite is the Cocoa Velvet). Made with Love also hosts many events such as communal dinners, art exhibits and cooking classes. You can even book your child's birthday party at the café!
10. Searching for a little Zen in your life? Bring your little one to Yoga Shunya for a Parent & Baby or Parent & Toddler yoga class. (If you'd prefer to fly solo, they also offer plenty of adult classes, including prenatal.)
11. Listen to live bands at Groove on Grove every Wednesday through September 7th. Free concerts are performed at the Grove Street PATH Plaza from 6-9pm. Bring the kids; they'll love to dance along with the music!
12. On hot summer days (or cold winter ones), seek refuge at the Newport Centre Mall. Shop till you drop, visit the kiddie rides, grab a bite to eat or catch the latest flick at their movie theater.
13. Bend it like Beckham! Enroll your kids in a class or camp with Super Soccer Stars—they'll have a blast while learning basic soccer skills. Classes are offered year-round at several locations throughout Jersey City and Hoboken.
14. Escape to Jersey City's only "urban beach" at Newport Green. This spacious park has an awesome playground area, complete with sand pit and sprinklers for cooling off. There's also a large open field that's great for lounging or playing sports.
15. Cool off at one of Jersey City's public pools! The Lafayette and Pavonia Pools are open during summer months and Pershing Field Pool is open year-round. Please check online for open swim schedules.
16. At the beginning of every season, Art House Productions hosts JC Fridays, a citywide celebration of the arts. Past events have included art exhibits, film screenings and live music, many of which are family-friendly affairs. Mark your calendar for the next JC Fridays on Friday, September 7th.
17. Take a ferry ride! This is one of my three-year-old son's favorite activities. From the terminal in Paulus Hook, you can hop a boat to downtown Manhattan…or even to the Jersey Shore. Some days we just hang out and watch them riding back and forth.
18. Sometimes a bigger park can be too overwhelming for younger kids. Luckily, Jersey City contains several small playground areas that are perfect for little ones to explore without getting trampled. We love the Colgate Center Park in Paulus Hook; there are also several smaller playgrounds located in Newport.
19. Every Friday afternoon, the Grove Street PATH Plaza is home to Creative Grove. This Artist and Designer Market features local artists selling handmade jewelry, clothing, fine art and more! Grab a bite to eat, enjoy some music and mingle with your neighbors.
20. Why not support a locally owned business? Jersey City is home to many wonderful neighborhood shops and restaurants. Some of our personal favorites include the coffee shop Legal Grounds, the candy story How Sweet It Is and the pet store Canine Canteen.
21. People travel from around the country to visit the Statue of Liberty. Jersey Cityites are lucky enough to have Lady Liberty right in their backyard. Statue cruises depart from Liberty State Park daily—this is a perfect outing for when visitors are in town!
22. Did you know that Jersey City is home to a family of elephant statues? These three beautiful creatures stand in a plaza on River Drive in Newport; their trunks serve as sprinklers during the summer months. Come back in the winter when the plaza is transformed into an outdoor ice skating rink and skate alongside the elephants.
23. Ride the Light Rail! If you're in downtown Jersey City, it's such an easy and convenient way to travel, especially if you're lugging a stroller. Take it to Liberty Science Center, Hoboken or the Newport Mall, or just go for a ride!
24. Stroll along the Hudson River Waterfront Walkway. The entire walkway covers 18.5 miles, spanning from Bayonne up to the George Washington Bridge. The Jersey City portion offers stunning views and is an excellent place for walking, running or letting your little ones roam free.
25. Liberty State Park is one of Jersey City's true gems. The park boasts picnic areas, great playgrounds, several restaurants, an old train terminal and tons of green space for relaxing on a beautiful day. It's the perfect destination for any time of the year!
26. Yes, lucky readers, you get a bonus selection. Check out our full review of Pole Position Raceway, JC's premiere go-karting venue!