Weekend Events for NJ Kids Jan. 9-10: Birds and Breakfast, Maple Sugar and Snowshoes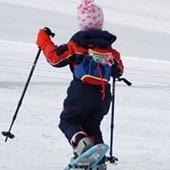 Find winter birds all over New Jersey's nature centers this freezing weekend: go on an owl prowl, identify and record birds at the bird feeder from the cozy indoors, or make some winter treats to take home for our feathered friends. The cold also brings some fun outdoor activities like maple sugaring and snowshoeing. Or take advantage of free planetarium shows at the New Jersey State Museum, storytelling and crafts at the Newark Museum, Russian dancing at the Garden State Discovery Center, and a princess breakfast at the New Jersey Children's Museum.
Second Saturdays at the New Jersey State Museum (Trenton)
On the second Saturday of the month this museum has FREE admission and lots of fun to offer! Kids ages K-12 can enjoy TheaterSports, a series of games between two improv teams that involves audience participation from beginning to end (1pm and 2:30pm); Big Bird's One World One Sky planetarium show for kids ages 3-6 yrs (1pm and 3pm); and Extreme Planets planetarium show for kids and adults of all ages (2pm and 4pm).
 Maple Sugaring at Great Swamp (Chatham)
Learn how to tap maple trees, collect sap, and make syrup over a wood-fired evaporator. Best of all, taste test different syrups at the end (pancakes not included!) Saturday and Sunday at 2pm. $3 fee per person. To reserve, call 973-635-6629.
Owl Prowl at Tenafly Nature Center (Tenafly)
Start indoors where you'll meet a live owl and learn all about the night time creatures, then head outside to search for the nocturnal feathered friends! Saturday from 5pm-6:30pm. Ages 5 and up. Program fee is $10 per person. Pre-registration required (available through website.)
Princess Breakfast at the New Jersey Children's Museum (Paramus)
Make it a special day and have breakfast with your favorite princess! Snow White, Belle, Sleeping Beauty, Ariel and of course Cinderella will be on hand to meet and talk to all the children. Saturday and Sunday. Advance tickets required - $14.00 plus tax for children and adults. Call 201-262-5151 x10
"For the Birds" at Liberty State Interpretive Center (Jersey City)
Make some tasty treats to take home for our feathered friends, place them outside your home–then wait and watch as they devour them! Saturday from 10am-noon. FREE, but pre-registration is required. Call 201- 915-3409.
Storytime in the Galleries at the Newark Museum (Newark)
If, like our family, your family worships the Mo Willems Pigeon, catch this museum's monthly storytime features "Don't Let the Pigeon Drive the Bus!" Saturday at 12:30. There are plenty of other fun activities going on at the museum this weekend as well, including a visit to the exhibition, "Glass Beads of Ghana" to discover the 400-year-old tradition of making beads, followed by bracelet making; and "Carnival of Chemistry." FREE with suggested admission. Adults/$10. Children/$6.
Russian Winter Festival at Garden State Discovery Museum (Cherry Hill)
Ready for Russia? Head here this weekend for folk dancing demonstrations (1pm), lacquered miniatures education (2pm), and a workshop on Matrioushkas–those cool Russian stacking dolls (3pm)! Saturday, noon-4pm. FREE with admission. $9.95/ for Adults and children 12 months and over.
Snowshoe Trek at Pyramid Mountain (Kinnelon)
Ever wondered what it felt like to snowshoe? Here's your chance! Head up the mountain for a winter trek through the forest. Don't have your own? No worries! Just rent some, and head out! (Or, up!) This event is recommended for kids ages 8 and up. Sunday at 1pm. Cost $1. ($5 includes use of snowshoes). Pre-registration required by calling 973-334-3130.
Tags: