Sweet Valentine's Day Outings & Crafts in New Jersey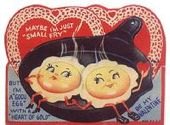 Valentine's Day is just a week away! That means just a week left to make some special Valentines or to plan a Valentine's-inspired outing with your little cutie-pie. Just for you, we've gathered a list of the sweetest kid-friendly Valentine's Day outings and a compilation of the best venues for Valentine's Day crafts. xoxoxox
Chocolate Festival at Morris Museum (Morristown)
This Valentine's day event is one that every kid should take their mom to! Enjoy some chocolate tastings, chocolate making demonstrations, make a heart-shaped finger puppet, and help paint the museum's chocolate community art project. Saturday February 12, 11am - 4pm. Free with admission, which is $10 for adults and $7 for kids.

Valentine's Day Naturally Sweet at Tenafly Nature Center (Tenafly)
For the mom who wants to keep a trim figure this Valentine's day, we have the perfect outing! Take her on a 2-mile hike and then introduce her to the most natural sweet: maple sugar! Recommended for ages 8 and up. Sunday February 13 from 10am to 1:30pm. Pre-registration recommended by calling 201-568-6093 or emailing info@tenaflynaturecenter.org.

Cupid and Cupcakes at Little Scoops (Cranford)
For a perfect daddy and daughter Valentine's date, go to Little Scoops! Little girls can put on princess dresses, meet Cinderella, enjoy song and dance, play games, decorate a crown, and snack on cupcakes and juice. Sunday February 13 from 10:30am to noon. $28 per child. Preregistration required by calling 908-497-7090.
Valentine's Day at the Pop Shop (Collingswood)
For a quick special get-away, take your sweetie to the Pop Shop for pink pancakes, heart-shaped sandwiches, a special Valentine's sundae, Valentine coloring sheets and special treats. Monday February 14.
Love, Aquarium Style at Jenkinson's Aquarium (Point Pleasant)
Animal lovers, do not forget your pets this Valentine's day! At this special event, adults and kids can bring or make a valentine for your favorite aquarium animal! All Ages. $6.00 per person plus general admission which is $10 for adults, $6 per child. February 12, 13, 14 — 6:00PM to 8:00PM.
Valentines making at The Discovery Museum (Cherry Hill) and Imagine That! (Florham Park)
Playdate + crafts = love in our book! Saturday and Sunday February 12 & 13 from noon to 3pm at the Discovery Museum and all day at Imagine That. Free with admission. The Discovery Museum's admission is $10.95 per person 12 months and up and Imagine That is $9.95 per child and $7.95 per adult.
The Knack FREE Family Event: Make a Valentine's Day Card at Michael's (multiple locations)
A free Valentine does not make you a cheap Valentine! Make a fun and free craft at your local Michael's for Valentine's day. Sunday February 13 from 1pm to 3pm. Drop in.
Will You Be Mine? at Liberty Hall Museum (Union)
Put a bit of old-fashioned romance into your Valentine making at this historic home. Saturday, February 12 from 10 AM to 1 PM. Recommended for 7 to 12 year olds. $10 per child.

Valentine's Day Arts & Crafts Workshop at Express Yourself Studios (Maplewood)
If you have an art-lover for a Valentine, look no further than Express Yourself Studios for the perfect Valentine's gift. Create a mixed media collage heart painting using acrylic paints and pastel crayons. 10am to noon. $15 per child for one hour of studio time. Reserve online.

Valen-Tween! at Brushes & Bisque (Denville)
Serve up some love on Valentine's day on a customized Valentine's Day dish! Break out the pottery and brushes, enjoy some treats, have fun with friends, and take home something special for your Valentine. Friday February 11 from 7pm to 9pm. Kids 7-12. $25 pr child. Advance registration required by calling. 973-629-6292