Spring Fling! Early Spring Activities in NJ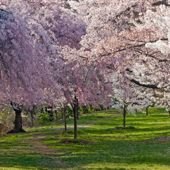 It's spring fever. That is what the name of it is. And when you've got it, you want - oh, you don't quite know what it is you do want, but it just fairly makes your heart ache, you want it so! ~Mark Twain
Oh Mark, you were so wise. Spring is trailing your hand along the baby grass, breathing in that intoxicating smell of possibility, of ditching coats for sundresses, leaving slush behind for the kick-up of magnolia blossoms on the walk to school. It's its own thing, spring, and it needs celebrating. Our Garden State has a slew of great activities from cherry blossom madness to a bluebird meet and greet. Dig in, fellow mothers. We've earned it this year.
New Jersey Botanical Gardens (Ringwood)
Why sneeze at the regular old trees in the park, when you can gesundheit at New Jersey's official garden, all 96 stunning acres. Kick-off spring with the happy yellows of daffodils and forsythia (April 1-15), and truly embrace the season in the blush of the cherry blossoms (April 15-30), whose petals fluttering wildly in the wind elicit as much excitement from my kids as a snowfall. Admission to the garden is FREE, though there are sometimes small donations requested for guided tours of the Skylands Manor, and walks including Early Spring Wildflower Walk (April 16) and the Family Woodland Walk (April 17). For further information call 973-962-9534.
Day at the Fair at Grounds for Sculpture (Hamilton)
Grounds for Sculpture in Hamilton, honors the roots of this highly accessible, contemporary sculpture park, which was built on the former grounds of the state fair, by offering all of the day-at-the-fair goodies. Naturally, this includes popcorn, cotton candy, hot dogs and the balloon man, as well as tours of the park, a pie-making workshop, and music in the courtyard. Sunday, April 17th, 11am-4pm. FREE with admission, $12 for adults, $8 for children, under 5 are FREE. For further information call 609-586-0616.
Cherry Blossom Festival at Branch Brook Park (Newark)
This 10-day long festival at Newark's-own Frederick Law Olmstead-designed masterpiece, Branch Brook Park (take that, Central Park!), incorporates competitive races, (biking, kid's fun run and a 10k), a photography workshop and a free lecture series, and culminates with Bloomfest on April 17th, 11am-5pm, which will offer Japanese cultural demonstrations, children's activities, live music, crafts and food in the Pink Park. Oh, and 4,000 insanely gorgeous pink trees.  Admission to Bloomfest is FREE.
Gardening Workshops and Bird Watching in Somerset County
The Somerset County Park Commission plans activities all year for adults and for families, and this spring is no exception. There are certainly many wonderful gardens to visit in New Jersey, but why not also show your little ones how to grow their own? At the Environmental Education Center, try Planning A Native Butterfly Garden (March 19, 1pm-3pm); a chance to get a naturalist's tips on planting a beautiful garden that will also attract regular visits to your backyard from every little girl's favorite insect. $12 per person. Organic Vegetable Gardening (March 26, 2pm-3:30pm) will teach the basics of starting seeds at home, cultivating robust soil, and encouraging healthy meal planning with your family straight from your backyard. Valuable lessons for youngsters and a great crossover as local Farmer's Markets get up and running again. $9 per person. If you don't want to get your hands dirty, how about a hike to welcome back our feathered friends? The Eastern bluebird is one of the first home, so bring your binoculars and comfortable shoes for The Bluebird Walk (March 27, 1pm-2: 30pm) and offer a hearty tweet tweet to the bird of happiness. $12 per person. Call 908 766-2489 for more information.
Dino Day & Bug Bonanza Family Festival at Camden Children's Garden
If you happen to have one of those children that like dinosaurs, bugs and dirt, than this is the day for you. Themed crafts, planting, digging for fossils and educational activities (as if the kids need more dino stats…) — it's a small-person nirvana. Designed especially for children and families, this four-acre garden is also the perfect size for a stroll and flower ogle. Saturday and Sunday, April 9th and 10th, 1pm-4pm. $6 per person. Call 856-365-8733 for more information.