Got Books? Shop Local at NJ's Best Independent Bookstores.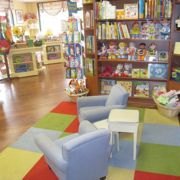 "So please, oh PLEASE, we beg, we pray, Go throw your TV set away, And in its place you can install, A lovely bookshelf on the wall."— Roald Dahl, Charlie and the Chocolate Factory. Well, maybe don't throw away your TV, but do turn it off every now and then, and all the other screens too. New Jersey has many wonderful independent bookstores, run by dedicated bibliophiles, that offer children's programs, story times, indoor activities, and books galore for mom, dad, the tween, the toddler and the tot. Stop in, browse, and walk out with a charming bag stuffed with countless adventures. There is nothing like a good book. 
Books, Bytes and Beyond (Glen Rock, NJ)
Having hosted children's authors, illustrators and artists as distinguished as Doreen Cronin, Robin Preiss Glasser and pop-up genius Matthew Reinhart, Book, Bytes and Beyond has earned a reputation as a top venue for visiting writers. It is also a wonderful spot for children's and young adult's literature, family friendly computer software and a knowledgeable staff that will not only recommend the perfect literary gift, but they will also wrap it up for you. For more information call 201-670-6766.
Words (Maplewood, NJ)
This charming shop offers books for everyone in the family, while also
implementing a vision that offers a comfortable, fulfilling experience for children on the autism spectrum, including employment opportunities, and books for special needs families. For more information call 973-763-9500

.
Watchung Booksellers (Montclair, NJ)
Reading groups for all ages, pajama parties, great staff recommendations, and the very cool Saturday Author/Illustrator Story Time Series for little ones — this Montclair shop has it all. For more information call 973-744-7177.
The Bookworm (Bernardsville, NJ)
This shop is firmly a part of the thriving Bernardsville community, with something for everyone in the family, including a great local section, and if you are having trouble deciding on a book, just check the yellow card tucked inside, for staff comments. In "Sarah Gives Thanks", about Sarah Hale, the mother of Thanksgiving. The Bookworm says, "This is one of the best books we have ever seen about Thanksgiving! For more information call 908-766-4599.
The Town Bookstore (Westfield, NJ)

This treasure has been around since 1934, and only recently switched locations after 73 years in its original home. With online shopping, a comfy book nook and a knowledgable owner, The Town Bookstore will keep standing the test of time. For the tween readers in your house, the current young adult recommendation from The Town is The Thief Lord, by Cornelia Funke. For more information call  (908) 233-3535.
River Road Books (Fair Haven, NJ)
River Road Books has something for the whole family, while also catering to the littlest readers in your house with Design-A-Bookmark contests, "Storytime for Budding Readers" and a kid-friendly environment. For more information call 732-747-9455.
Book Garden (Frenchtown, NJ)
Located in a charming  'Painted Lady' Victorian, this quaint shop offers gifts, journals, new and used books, author signings, and book clubs for kids at various reading levels. "Word Explorers" brings together kids from 6ish to 11ish once a month for reading adventures. For more information call (908) 996-2022.
Symposia (Hoboken, NJ)
Both a used book store and a community center, Symposia hosts story times, guitar circles, puppets shows and rents its space out for events. My daughter had a birthday party there and the "goodie bag" for her guests was a book; can't get much better than that. For more info, call 201-963-0909
Originally published October 2012