The Best Indoor Ice Skating Rinks in NJ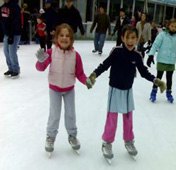 From ice fishing and tubing to skiing and snowboarding, families can make the best of the frigid temperatures. And if you are looking to beat cabin fever (before it sets in!), try ice skating! There are many indoor ice skating rinks located across the great Garden State. Take a family lesson, play some hockey or just grab a hot chocolate and skate during a public session. Here's a listing of indoor rinks by county for NJ families, and if you're looking for something a bit chillier, check out our Best Outdoor Ice Skating Rinks in NJ. For all wintry sports, check out our Ski & Snow Guide.
Hudson County
Richard J. Korpi Ice Rink (Bayonne, NJ)
Located on the campus of Bayonne High School, this indoor rink is home to the Bayonne Rangers. It offers lessons, hockey and group rentals. Click here for admission and rental pricing. 
Bergen County
Ice House (Hackensack, NJ) 
With four regulation size NHL rinks, Ice House is the largest facility of its kind in the Tri-State area. Also offering a full service food court, party rooms, and meeting rooms, this indoor rink center Ice House operates one of the largest full service hockey and skating Pro Shop in the New York-New Jersey area. Click here for public skating hours and admission. 
Fritz Dietl Ice Rink (Westwood, NJ) 
Conveniently located in Westwood, this family owned and operated skating rink offers year round skating for all ages and abilities. It is both the birthplace and home of the North Jersey Figure Skating Club. Click here for pricing and hours of operation. 
Union County
Union Sports Arena (Union, NJ) 
Union Sports Arena is great for family outings, skating lessons, parties, event hosting and hockey. The 'living room café' is open daily and offers hot beverages, snacks, big comfy couches, free WiFi and DirecTV. For pricing and rentals, click here. 
Warinanco Ice Skating Center (Roselle, NJ) 
Located within Union County's Warinanco Park, this ice rink is celebrating its 52nd skating season. Come here for lessons, hockey clinics, special events and more. Public skating hours vary; click here for pricing and open skate details. 
Essex County
Richard J. Codey Arena at South Mountain (West Orange, NJ) 
Part of the Essex County Park System, this arena (formerly South Mountain Arena) was renovated in 2005 and features meeting rooms, a concession stand, pro shop and arcade. Public skating is available daily. The schedule changes monthly, so be sure to click here to download a schedule. Click here for pricing details. 
Atlantic County
Flyers Skate Zone (Atlantic City, NJ) 
Better known as the official training facility of the Philadelphia Flyers, this area has open skate seven days a week. Hockey camps and clinics, leagues, figure skating, lessons, a snack zone and pro shop are all available. Click here for pricing and rentals.
Burlington County
The Igloo Ice Rink at Mount Laurel (Mt. Laurel, NJ) 
This state-of-the-art ice skating facility offers group and individual instruction for ice hockey and figure skating, as well as an arcade, snack bar, birthday parties and corporate meetings. For pricing and schedules, click here.
Gloucester County
Hollydell Ice Arena (Sewell, NJ)
Figure skating, lessons and hockey are offered. Plus, there is an Olympic size rink and an NHL size rink available. There is a pro shop on-location. Public skating schedule information and pricing can be found here. 
Hunterdon County
Aspen Ice at Flemington (Flemington, NJ) 
The Aspen Ice center is a full-sized NHL ice rink offering lessons, hockey, parties and more. It is open year-round and includes a pro shop on-site. Public skating is offered daily and times changes weekly. For admission, schedules and rental fees, click here.
Middlesex County
The Arenas at Woodbridge Community Center (Woodbridge, NJ) 
This rink has it all – ice skating, in-line skating and roller skating! Remember to sign up for the email club for monthly coupons and specials. The arenas host ice skating birthday parties with options like pizza, chicken nuggets and Carvel ice cream cakes. It also offers a Dynamic Party Package, which features both ice and roller skating. Figure skating, ice skating and roller skating lessons are offered. For public ice skating schedule and pricing details, click here. 
Monmouth County
Red Bank Armory Ice Complex (Red Bank, NJ) 
Nestled in the great small town of Red Bank, this ice complex offers public skating, open hockey times, lessons, leagues, training, parties and various activities through the winter months. There is also a pro shop available on-site. Click here for pricing. 
Morris County
Mennen Sports Arena (Morristown, NJ) 
As part of the ever growing Morris Country Parks Commission, this sports arena offers skating year-round, group lessons, hockey clinics, figure skating clubs and birthday parties. Click here for pricing and public skate schedules. 
Ocean County
Ocean Ice Palace (Brick, NJ) 
New Jersey film buffs may remember this ice rink from Kevin Smith's 1997 film Chasing Amy. The Ice Palace offers clinics, lessons, leagues, summer camps, parties, tournaments and open stick time. For admission and public skating schedules, click here.
Passaic County
Floyd Hall Arena (Little Falls, NJ) 
With public skating sessions, freestyle skating, open hockey, leagues, lessons, adult programs and group outings and birthday parties – this rink has it all. Public skating is offered throughout the week, with more sessions during the holidays and adult skating sessions at night. Click here for current pricing. 
Ice Vault Arena (Wayne, NJ) 
The Ice Vault Skating Arena is the tri-state area's newest multi-rink facility. With two rinks operating year round, this venue offers lessons, birthday parties and competitive. Public skating is available on certain weekdays and weekends. Click here for pricing. 
Somerset County
ProtecHockey Ponds Ice Center (Somerset, NJ) 
This state-of-the-art facility provides lessons and activities in hockey, ice skating and more. A full-service café is available, as well as a pro shop. Click here for pricing and public skate hours. 
Sussex County
Skylands Ice World (Stockholm, NJ) 
This family-friendly rink is the perfect place to beat the cold weather. Skating camps, hockey and parties are offered, along with Friday night ice jams and synchronized skating. Lessons are available for all levels from preschool to adults. Public skating is offered daily in the afternoons and two sessions are offered on the weekends. Click here for the current schedule and pricing.