NJ Flea Markets, Summer Craft Fairs and Art Festivals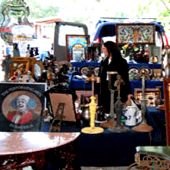 The origins of the term "flea market" are disputed, with explanations ranging from buyers and sellers being active as fleas, or that the very first flea market had flea-infested goods and people. Wherever the expression came from, flea markets are here to stay and a totally fun way to spend a summer day. And don't forget to also check out all the summer craft fairs and festivals in NJ—there's about 5,762 of them (only a slight exaggeration). We're highlighting just a few of the best for your summer arts and crafts consumption. So cruise to the crafts and flee to the flea! (sorry, couldn't resist.)
Englishtown Auction and Flea Market
Englishtown, NJ
The Englishtown Auction, (or 'Flea Market' to its friends) first opened in 1929 and has been going strong ever since. How can you go wrong with forty acres of antiques, automotive supplies, clothing, electronics, fashion accessories, hardware, health and beauty supplies, home furnishings and gifts, jewelry, outerwear, pet supplies, plants for the home and garden, specialty food items, toys, and a number of services available including jewelry repair, tailoring, and vacuum repair. I'm tired just thinking about it. FREE admission and FREE parking. Saturdays and Sundays 8am to 4pm. Call 732 446-9644 for more info.
Columbus Flea Market 
Columbus, NJ
Known as "the bargain hunter's dream", Columbus Flea Market is the perfect place for bartering and buying. Where else can you shop for wallpaper fabrics, musical instruments, jewelry, pets, fresh produce and fish all under one roof? The indoor market is open Thursdays and Saturdays 8am to 8pm, Fridays 10am to 8pm and Sunday 8am to 5pm; the outdoor market is open Thursdays 7:30am to 3pm, Saturdays 7:30am to 2pm and Sunday 6:30am to 3pm. FREE parking. Call 609-267-0400 for more info.
Collingswood Flea Market
Farmingdale, NJ
With 600 merchants on 25 acres of land, the Collingswood Auction and Flea Market has has something for everyone. New merchandise, closeouts, surplus, used desirables, housewares, clothing, jewelry, sports merchandise, country collectibles, antiques, furniture, and more. Open Friday & Saturday 9am to 8 pm, Sunday 9am to 5pm. Call 732-938-7941 for more info.
Dover Flea Market
Dover, NJ
Located in historic downtown Dover and spread out over 12 city blocks, Dover Flea Market is our "rogue" pick; their theme is "Make a buck, save a buck" and the website has a picture of Ozzy Osbourne shopping. Can't beat that with a stick. Open Sundays 9am to 4pm. Call 973-989-7870 for more info.
Golden Nugget Antique & Collectible Flea Market
Lambertville, NJ
The Golden Nugget Antique Market is a Lambertville institution started in 1967, and known for its vintage and retro items. We like the Golden Nugget if for nothing more than its tag line "One person's junk is another person's reason to exist." Open Wednesday, Saturday, & Sunday, 6am to 4pm. Call 609-397-0811 for more info.
New Meadowlands Flea Market
East Rutherford, NJ
Under new management as of March 2010 (which is why they are now billed as the "New" Meadowlands Flea Market), this gig is complete with 500 merchandise vendors and free entertainment and games. Parking and admission also free. Open Saturdays, Special Event Days and Holidays from 9am to 4pm. Call 201-935-5474 for more info.
Leonia Summer Craft Fair
Leonia, NJ
The almost-famous Leonia Summer Craft Fair and Car Show benefits the American Legion, has crafts and cars, and a Moon Bounce for the kids. How you can pass this up? Sunday July 26, 10 am to 4 pm. FREE admission. Call 201-978-6161 for more info.
Spring Fine Arts and Craft Fair at Brookdale Park
Bloomfield, NJ
This is one of the fancier ones, with over 160 juried professional fine artists displaying their unique works and taking special orders. So come out and meet jewelers, potters, wood workers, fiber and glass artists, photographers and sculptors. FREE. Saturday, June 19, 10am to 5pm. Call 908-874-5247 for more info.
Nutley's Father's Day Street Fair
Nutley, NJ
The main thoroughfare of Nutley will be transformed into an open- air pedestrian marketplace with non-stop entertainment, festival foods, local merchants and a special section with craft exhibitors displaying their handmade crafts. The small ones amongst us get JC's Traveling Kids Shindig with kids games, pony rides, a petting zoo, temporary tattoos, sand art, face painting, and special kids entertainment. FREE. Sunday June 20, 10am to 5pm. Call 201-998-1144 for more info.
Haddonfield Crafts and Fine Art Festival
Haddonfield, NJ
This is the12th Annual Haddonfield Crafts & Fine Art Festival and any festival that makes it that far means that the last 11 were really, really good. Works by more than 235 professional artists and crafters, a rendering competition, food from area restaurants, music by new age, jazz & celtic groups and puppeteers and face painters for the kids. FREE. Saturday, July 10, 11am to 6pm, Sunday July 11, noon to 5pm.
Stone Harbor Art and Crafts Show
Stone Harbor, NJ
Now this is the 48th Stone Harbor Art and Crafts Show, which means it's 36 years better than Haddonfield. No, just kidding. But they do have a fine display of traditional, country and fine art crafts all under beautiful, billowing white tents. Saturday, August 7 and Sunday, August 8. Call 609-368-4112 for event times and more info.
Christmas in July Craft Show
Wildwood, NJ
Take a break from your vacation and see hundreds of homemade crafts inside the air-conditioned Wildwood Convention Center. Browse through the various craft items ranging from stained glass to framed artwork, clothing, gourmet food items, jewelry, pottery and ceramics, flower arrangements and rod iron. And yes, some crafters will have Christmas items. July 17 and 18 from 9am to 5pm. Admission: $3/Adults, Children 12 & Under FREE. Call for more info, 717-656-3208 ext. 2.
Collingswood Crafts and Fine Arts Festival
Collingswood, NJ
The second Saturday and Sunday of August each year marks the popular Collingswood Festival with over 180 juried artists stretching down Haddon Avenue. Contemporary works in wood, clay, glass, metal and fiber and the newest in hand crafts and exciting visual art. For your young art connoisseurs, a talented face painter and family art activities offered by All Fired up Pottery Studio and Jubilee Beads add to the fun. Saturday, August 14 from 10am to 6pm and Sunday, August 15 from 11am to 5pm.