Biggest and Best July 4th Fireworks in New Jersey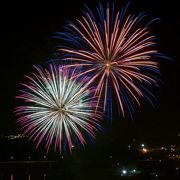 Fantastic news, New Jerseyans! Macy's may be moving its July 4th fireworks display to the East River, but no need to hop on a subway or park in front of the television. New Jersey will host several of its own amazing fireworks spectaculars, including one right over the Hudson River. Jersey City will present the Freedom and Fireworks Festival on the Hudson, continuing Northern New Jersey's patriotic celebration. In addition to Jersey City's extravaganza, check out these other great Independence Day festivities throughout the state. And for more ideas to keep little ones busy over the long holiday weekend, visit the New Jersey Kids Summer Activities Guide.
Freedom and Fireworks Festival (Jersey City, NJ)
With the Statue of Liberty as its backdrop, Jersey City will host a grand fireworks production over the Hudson, promising to be the biggest in the state. The all-day event, taking place at Liberty State Park, includes carnival rides, games, food and a free pre-fireworks concert. Crowds of over 100,000 are expected, so pack blankets or chairs and enjoy the patriotic party!
Atlantic City Fireworks (Atlantic City NJ)
Atlantic City boasts "one of the top five fireworks displays in the country." Over 250,000 people are expected to flock to various viewing areas along the boardwalk, beach, Steel Pier or casinos. The free fireworks Sky Concert will begin at 9:30pm and feature both patriotic and contemporary music. The cant-miss display is so big that it takes two ocean barges and a marina platform to light up the sky.
24th Annual Oceanfest (Long Branch, NJ)
Catch one of the biggest Fourth of July festivals in the state at Long Branch's 24th Annual Oceanfest. The festival runs from 10am to 10pm, rain or shine, along the half mile stretch of oceanfront Promenade between Seven Presidents Park and the Ocean Place Resort Spa. Family-friendly festivities include dancers, musicians, clowns, carnival acts, food, crafts and costumed characters. The Oceanfest finale is a spectacular fireworks display over the ocean at 9pm.
Wildwood Fourth of July Fireworks (Wildwood, NJ)
Fourth of July in the Wildwoods is chock full of family-friendly activities. Daytime events include The Independence Day Parade, The Patriotic Pooch Parade, the Fourth of July Beach 'n Boardwalk Patriotic Run/Walk and the Fourth of July Boardwalk Craft Show. In the evening, grab a blanket or beach chair and enjoy some free pre-fireworks festivities. At 6pm, a concert at Fox Park features Changes in Latitude, a Jimmy Buffet tribute band. At 8pm, the Manhattan Dolls perform at the Centennial Park Entertainment Pavilion. The fireworks begin at 10pm on the beach at Pine Avenue and will be visible from almost anywhere in the Wildwoods.
Jenkinson's Annual 4th of July Fireworks Spectacular (Point Pleasant, NJ)
While Jenkinson's presents a fireworks display every Thursday night throughout the summer, its July 4th event promises to be even more spectacular! Fireworks begin at nightfall, around 9pm, and can be seen throughout Point Pleasant Beach. There's no admission to the beach, so bring a blanket and watch the show. And if you get there early, enjoy the rides for $18 with Jenkinson's Friday night Wristband Special, from 5pm- 11pm.
Fireworks at New Jersey State Fair (East Rutherford, NJ)
New Jersey's biggest and most energetic fair is jam-packed with fun that includes rides, attractions, live performances, food and a two night fireworks extravaganza. Fireworks will begin after 10:30pm on both Thursday, July 3rd and Friday, July 4th and promise to be a real "feast of the eye." See website for July 4th admission prices and schedule.
Camden Waterfront Freedom Festival (Camden, NJ)
In honor of Independence Day, the Camden Waterfront boasts 4 days of family-fun activities. Daily events include military displays, Hippo Haven at Adventure Aquarium, all American fare, demonstrations aboard Battleship New Jersey and musical performances on the Wiggins Park Stage. The stunning Adventure Aquarium Waterfront Fireworks Celebrations takes place on Friday, July 5th, at 9pm following the live concerts.