NJ State Fair: Farm Fun and Rides Just a Short Ride from NYC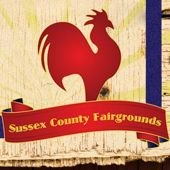 We love state fairs. With all the animals, games, rides and junk food, they are full of old-fashioned fun for the entire family. While we've written about all the New York State and County Fairs and that post is in our Summer Activity Guide, but we also love the New Jersey State Fair, which is opening in the end of July.
The NJ State Fair was started in 1821 and retains an old-fashioned charm today. Just one hour's drive from NYC, the NJ State Fair is filled with a slew of animals rivaling Noah, a fairway full of rides, pig races, butterfly exhibits, bee-keeping exhibitions and a food court offering everything from home-made baked-potatoes to blooming onions and corn-dogs—your kids'll be enthralled.  And did we mention a wine-making competition and a beer tent?  And there's even free parking.

New Jersey State Fair/ Sussex County Farm and Horse Show
Located in Augusta, NJ at Rt. 206 & Plains Rd.
July 31-August 9, hours vary—check calendar for planning
Free parking (in dairy fields, so nix the heels)
Adults $11, Children $5, Under 5 free. Fairway rides additional. Reduced advance tickets are available. There are specials all week long—check the event calendar.
newjerseystatefair.org
973-948-5500
Recommended Stops:
Fairway:  For $19, receive an unlimited ride pass Monday through Thursday and on the final Sunday. Cost additional at other times/days.  Here you'll find the rides from your childhood memories: the teacup, the round-up, the Viking boat, bumper cars, haunted houses, bouncy tents, ferris wheels—the kids will have to be dragged away from this section!
Games:  Intermingled with the rides, and ready for you to showcase your skills, are the carnival games.  Bring a tote bag—with any luck at squirting the clown face, puncturing the balloon, or knocking down milk jugs, you'll have a menagerie of stuffed animals to lug around.
 
Limited exhibitions/entertainment: Throughout each day and well into the night, you'll find shorter showcases featuring everything from square-dancing to honey-bee demonstrations, tractor pulls, monster trucks, Polish bands, and my favorite, the Racing Pigs. As the event name suggests, horse shows remain a big part of the week as well, and what fair would be complete without a pageant and crowning of a fair queen?  Check the calendar for specifics
 
4-H Livestock Building: Cows, rabbits, llama, pig, horses, goats, chickens (a favorite—always amusing), and more for viewing, not touching.  Check out the ribbons and find the winner in each category—you may be surprised!
Petting Tents Smaller versions of the above, where touching and holding the animals is encouraged. Reminder: Pack your own hand sanitizer wipes.
 
Food court:  This is a sweet-smelling strip of booths offering corn dogs, cotton candy, Zeppoles, gyros, hot dogs, sausage-and-peppers, popcorn, candy apples, ice cream, ice cones, Italian ices, Belgian waffles, baked potatoes, bratwurst, tempura vegetables, sugar-coated nuts, smoked turkey legs, blooming onions and more—arrive hungry!  The beer/wine cooler tent located at the end of the strip offers a few tables and benches, but you'll probably be eating and walking.  On second thought, double up on those hand sanitizer wipes.
If the grease and mobile dining doesn't suit you, or you've had your fill of sunshine, check out Augusta's nearby Chatterbox Drive-In restaurant.  A 50's-style joint complete with car-hop service, and the best milkshakes you'll ever taste.  
At the end of the day, you'll be sweaty, dusty and weighed down with unneeded stuffed animals and cotton candy intake---but you'll also be planning what to visit during next year's State Fair.