Kids Acting Classes and Schools in NJ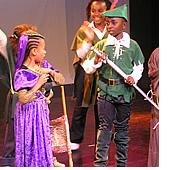 Before you run out to get head shots taken for your little thespian, why not enroll him or her in acting school?  NJ offers a great assortment of studios, big and small, that should give your kids a taste of life on stage.  If your child's schedule is booked through the school year, don't fret–most schools offer summer camp programs as well.  So roll out the red carpet, focus the spotlight, and let your star shine! And for more classes and enrichment opportunities, check out our Enrichment Programs, Classes and Activities for NJ Kids.
Note: Many of these schools also offer music lessons and film-making classes, but that's another post! Tuition varies immensely based on child's age, length of class, location and number of sessions per week.  Please refer to individual websites for further information.
Acting-A-Part Theatre Company and Movie Studio (Ridgewood, Sparta and Morristown)
Acting-A-Part Theatre Company tailors plays to meet the dramatic wishes of their students–and the kids adore it!  Plays are re-written to allow every little aspiring princess to play that part; for the younger crowd, lines are fed to performers during the show. The result? No stage fright, no fighting over parts, and a wonderful, welcoming entry into the world of performance. Acting-A-Part also offers social skills classes and mommy and me classes for the younger set.  Call 973-879-3651 or 973-729-6434 for more information.
PaperMill Playhouse (Millburn)
The world-famous New Jersey theater has more than great productions up its sleeve—it also has a wonderful selection of acting classes for kids aged 2 to 12 (Broadway Babies, Theater Tots and Junior Players) and 13 to 17 (Youth Theater). Fun and unusual choices like Improvisation, Musical Theater, Introduction to Acting and Tap/Jazz are offered. Registration forms can be downloaded from the theater's website or call 973-376-4343 for more information.
Mayo Performing Arts Center (Morristown)
Over 250 children annually participate in this performance-based theatrical training program, but don't let those numbers frighten you--a nurturing and supportive atmosphere allows your star to build stage confidence and shine!  Classes are taught in musical theatre, acting and voice, and each 12-week class leads to a grand end-of-season performance. Once your tike becomes a teen, they may join the Center's musical ensemble group which travels New Jersey performing free at community events and fundraisers. Philanthropy and performance experience–great concept! Bonus: Need-based scholarships available. Classes are for children  5 years old and up. Call 973-539-0345 ex. 6582 for more information.
The New Jersey School of Dramatic Arts (Bloomfield)
Worried your burgeoning star has much more, or much less, experience than other actors his or her age? Here's your solution! Unlike most studios that offer age-based classes, this school uses interviews and auditions to match its students to acting,  musical theater, improvisation and TV/film training programs courses based on skill level and experience. The multi-level program builds stage knowledge step-by-step, leading to comprehensive stage training. Also, the school fields frequent casting requests from commercial, film and theater companies, giving your child a chance to start building that acting resume! Classes are for children in 1st grade and older.  Call 973-566-9700 for more information.
Performers Theatre Workshop (Livingston)
Tired of trucking their two kids around New Jersey and NYC to give them the full scope of acting lessons needed, Esther and Howard Kravitz, Juilliard graduates and longtime educators and performers, established their own school. In its 15 years of existence, the Performers Theatre Workshop (PTW) has increased its student enrollment more than ten times over, and is now acclaimed as one of the foremost performing arts schools in New Jersey. A relaxed, noncompetitive environment pervades the school, and, perhaps due to their own experience as parents of young actors, PTW truly offers a sense of family.  Classes are for 3 year olds and up. See the website for the extensive class schedule or call 973-992-3034 for more information.
Peachcraft Studios (Summit)
What happens when a top L.A. casting director establishes an acting school? Peachcraft Studios, that's what! Kate Kennedy, owner of Peachcraft, has experience as a casting director in the film and television industry and coaches using the Michael Chekhov technique with amazing results. Her students have gone on to book roles on Broadway and Off-Broadway; in major and independent feature films, episodics, pilots, national commercials, and, of course, school plays! Another cool touch….actors work on-camera and are guided through their process by viewing in order to measure and evaluate their work. Classes are for 6 year olds and older. Call 908-673-1485 for more information.