Holiday Trains in New Jersey: All Aboard the Polar Express!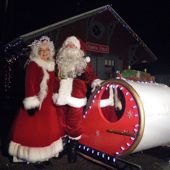 Ok, so you can't quite make it to the North Pole, although that would be pretty cool. Good thing in New Jersey the North Pole can come to you—on wheels, no less!  Check out these holiday train rides with Santa Claus and book your tickets as soon as possible to ensure your spot on these special train rides--they sell out incredibly fast. And don't forget to check out our fun Holiday Activity Guide, too.
The Christmas Express (Allaire State Park)
Sponsored by The New Jersey Museum of Transportation, the Christmas Express is a wonderful tradition! Not only does Santa Claus join in the fun, but he rides the Christmas Express and talks to all the children. Train leaves every half hour from 11:00 a.m. to 4:00 p.m., weather permitting on the following dates: November 28-30th, December 6-7, 13-14th, 20-21st. There's also Christmas Express Nights With Santa--Santa rides the Christmas Express and talks to all the children in the evenings. Train leaves every half hour from 6:00 p.m. to 8:30 p.m., weather permitting, on the following dates: December 5-6th, 12-13th, 19-20th.
Santa Train Rides (Statewide)
Available weekends throughout New Jersey through the rest of the month into December, Santa Train Rides offer kids and their parents a chance to meet Santa Claus, Mrs Claus, his helper elves and other cartoon characters. Departure stations include Whippany, Westfield, Somerville, Wayne, and Glen Rock Boro Hall. Prices vary by departure location; you will return to the station you left from. Fare includes an activity book and a little toy for every child. Rides are approximately an hour.
Whippany Railway Museum—23rd Annual Santa Claus Special (Whippany)
Santa Claus visits trains that depart rain or shine from the Whippany Railway Museum grounds in Morris County, New Jersey. Note: All club car seats are SOLD OUT. Coach seating is still available, though. Departure times are every hour from 1:00 p.m. to 4:00 p.m. The next trains depart November 30th, December 6-7th, December 13-14th. During each excursion, Santa makes his way through the train and visits with the children onboard. The train crew follows along, giving the kids a special gift from Santa. The 10-mile, 45-minute round trip excursion from Whippany to Roseland and return allows passengers time to enjoy the Festivities of the Season and the merriment on the train. There are limited tickets for a nostalgic Christmas ride aboard the Museum's elegant 1927-era Central Railroad of New Jersey (CNJ) 'Club Car' Jersey Coast.
Strasburg Rail Road (Strasburg, PA)
If you want to cross the border into Lancaster County, PA, check out the Strasburg Rail Road, where Santa himself will climb aboard and visit with families as they travel down the tracks to Paradise, PA and back. Santa's Paradise Express Departs November 28-30, December 6-7th, 13-14th, 20-21th. This year, Mrs. Claus will also be at the station from 12:00 p.m. to 4:00 p.m., so get those camera phones ready for pics. Schedule is as follows, and you can buy tickets day of, or online: 11:00 a.m., 11:30 a.m., 12:00 p.m., 12:30 p.m., 1:00 p.m., 1:30 p.m., 2:00 p.m., 3:00 p.m., 4:00 p.m., 5:00 p.m.  En route, children 11 and under will receive a gift from Santa. Plus, children are treated to storybook readings of holiday classics. Visitors of all ages can also enjoy a ride aboard the Tinsel Trolley, a self-propelled motor car. There's also a Night Before Christmas train in the evenings, which may interest older kids. Didn't get your Christmas tree yet? There's even a train for that. Note: Prices for Christmas Express vary by type of car you choose to sit inside.
Updated: November 23, 2014