Holiday Trains in New Jersey: All Aboard the Polar Express!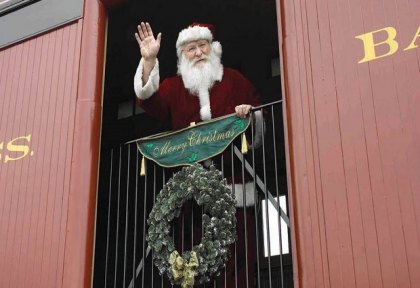 Ok, so you can't quite make it to the North Pole, although that would be pretty cool. Good thing in New Jersey the North Pole can come to you—on wheels, no less!  Check out these holiday train rides with Santa Claus and book your tickets as soon as possible to ensure your spot on these special train rides--they sell out incredibly fast. And don't forget to check out our fun Holiday Activity Guide, too. Happy holidays from everyone at Mommy Poppins!
The Christmas Express (Allaire State Park--Wall Township)
Sponsored by The New Jersey Museum of Transportation, the Pine Creek Railroad's Christmas Express is a wonderful family tradition. Not only does Santa Claus join in the fun, but he rides the train and greets all the children on board. Each ride is about 15 minutes. Trains leave every half hour from 11:00 a.m. to 4:00 p.m. on December 5, 6, 12, 13, 19 & 20. Tickets cannot be purchased online; purchase tickets day-of at the Ticket Office, which is located at the far corner of the parking lot; look for the building with the Tickets sign on the roof. Fare: $6.00; even for babies, cash or Visa/Mastercard only.
There's also Christmas Express Nights With Santa. The famous Jolly Man (sans reindeer!) rides the Christmas Express and talks to all the children in the evenings. This special train departs every half hour from 6:00 p.m. to 8:30 p.m. on December 5, 11, 12, 18 & 19. Fare: $6.00
Santa Train Rides (Whippany; Wayne)
This is a joyous Santa Train Ride that offer kids and their parents a chance to meet Santa Claus, Mrs Claus, his helper elves and others cartoon characters. Enjoy the Christmas holiday themed ride through the central & northern NJ countryside. The trains depart from Wayne and Whippany:
Wayne information: One day only, Saturday, December 12th. This year, the Tri-State Railway Historical Society is again operating its annual train ride with Santa Claus; offering service from the NJ Transit station in Wayne, NJ. Click here for departure times and to purchase tickets. Note: Trip last approximately 60 minutes and will return to its departure station. Fare includes an activity book and a little toy for every child. There are bathrooms on board. Each child will have the opportunity to meet Santa, so get out those camera phones when Saint Nick comes by.
Whippany information: Whippany Railway Museum
Santa Claus invites families to celebrate the Christmas Season by riding the rails onboard the Whippany Railway Museum's Santa Claus excursion trains. Dates of operation: November 29th; December 5, 6, 12 and 13, at various times. The 10-mile, 45-minute round trip excursion from Whippany to Roseland (and return) allows passengers time to enjoy the festivities of the season and the merriment on the train. During each excursion, Santa makes his way through the train and visits with the children; the train crew merrily follows along, giving the kids a special gift from Santa. Note: Advanced tickets are only available through the Museum's online ticket store and not at any other location or site. (Please note that online tickets can be purchased up to 2 hours before departure on the day of that weekend's excursion.)  Also, the museum will be open from 12 Noon to 4:00 p.m. each day of operation. A Gift Shop is located within the museum building. Light refreshments are available at the Museum's Snack Depot.
Strasburg Rail Road (Strasburg, PA)
There are 4 very special trains this years at this historic and beautiful station. 
If you want to cross the border into Lancaster County, PA, check out the Strasburg Rail Road, where Santa himself will climb aboard and visit with families as they travel down the tracks to Paradise, PA and back. Santa's Paradise Express Departs November 27th - 29th, December 5, 6,12, 13, 19th and 20th. Trains generally depart every 30 minutes starting at 11:00 a.m.-- times vary, so check the online calendar-- and tickets can be purchased online or day-of. (Rides are approximately 45 minutes)
Returning for her second year, Mrs. Claus will be available at the station from 12-4:00 p.m. to help children finalize their letters to Santa! 
Visitors of all ages will be charmed as they enjoy a ride aboard the Tinsel Trolley, a self-propelled motor car, and enjoy storybook readings of holiday classics aboard our heated stationary Caboose. You can choose to sit in the, President Car, First-Class Parlor Car, Dining Car or Coach Car; click here to read more. Prices vary by passenger's age.
Additionally, there is a Christmas Tree Train departing on Saturday, December 5th at 9:00 a.m. and at 12:30 p.m. Guests will ride to Leaman Place Grove to select and purchase a lovely Christmas tree. Note: There is NO Santa on this particular train. Click here for tickets.
FYI--There's also a Night Before Christmas Train at Strasburg. This very unique and special train recreates the excitement and anticipation of Christmas Eve. A reader dressed in a Victorian nightshirt and cap will read Clement Clarke Moore's classic poem, The Night Before Christmas, as the train rolls along. Young passengers enjoy a treat of milk and cookies--yummy! Children are also treated to storybook readings of holiday classics aboard a heated Caboose (stationary) and visitors of all ages can enjoy a ride aboard the Tinsel Trolley, a self-propelled motor car. Note: On this train, many kids come dressed in pajamas. Passengers may bring old-fashioned storybooks to benefit the Clinic for Special Children. (Please, no fantasy books). Click here to purchase tickets for November 27; December 4, 11, 18th; departure times listed online.
And finally, families--yes, including babies and toddlers--can enjoy a Christmas Feast on board a magnificent and festive train. Celebrate the magic of the season by dining on our holiday train. Enjoy a delicious Christmas dinner complete with all the trimmings; a gift the whole family is sure to savor. Please plan to arrive no later than the boarding time in order to enjoy the full experience. Dates: November 27; December 4, 11, 18th. Tickets, pricing, the menu, and more info can be found here. 
Image: Strasburg Rail Road
Updated: November 23, 2015