Halloween Trains in New Jersey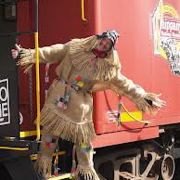 Boo! Halloween and hayrides go hand-in-hand, but you may not have heard of a Halloween train. Adding a creepy factor to a train ride really enhances the whole spooky vibe of Halloween. Throughout New Jersey, various railroads can take your entire family on an adventure. Read below for some great ones; some are scary, some just take you to a pumpkin farm but, regardless, these trains bring on the fun!
Located in Phillipsburg, The Great Pumpkin Train at the Delaware River Railroad runs to the end of October, weekends only! Families can ride the steam train through the beautiful fall landscape of Western New Jersey. Take the train to a pumpkin patch located in a little glade in front of the historic Carpentersville Lime Kilns dating from the 1700's. At the Pumpkin Patch,  everyone is welcome to get  off the train and every child can pick their own free pumpkin. If that's not amazing enough, for those little ones who just LOVE Thomas the Tank Engine, explore the world's ONLY dinosaur-shaped corn maze. It's not Halloween-y per se, but it's certainly very cool.
All aboard the haunted express! A haunted train? Beat that, Disney World's Haunted Mansion! The Haunted Express at New Jersey Museum of Transportation at Allaire State Park is a must-see. The Haunted Express travels only by night through the haunted woods of Allaire State Park. Trains leave every 30 minutes from 7:30 pm to 9:30 pm, on the following Fridays and Saturdays in October: 10, 11, 17, 18, 24 & 25. (Tickets must be purchased in-person only) For more info, contact Allaire Village at 732-919-3500.