Halloween Trains in New Jersey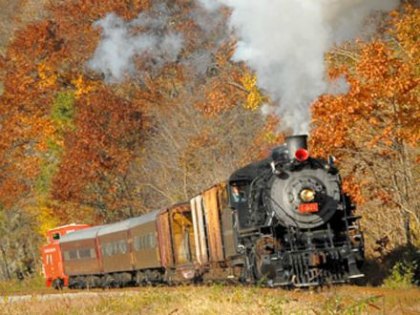 Boo! Halloween and hayrides go hand-in-hand, but you may not have heard of a Halloween train. Adding a creepy factor to a train ride really enhances the whole spooky vibe of Halloween. Throughout New Jersey, various railroads can take your entire family on an adventure. Read below for some great ones; some are scary, some just take you to a pumpkin farm but, regardless, these trains bring on the fun. For more spooktacular events, check out our Halloween Activities Guide. and sign up for our emails to get more Halloween and family activity ideas each week.
Located in Phillipsburg, The Great Pumpkin Train at the Delaware River Railroad runs to the end of October, weekends only! Families can ride the steam train through the beautiful fall landscape of Western New Jersey. Take the train to a pumpkin patch located in a little glade in front of the historic Carpentersville Lime Kilns dating from the 1700's. At the Pumpkin Patch,  everyone is welcome to get  off the train and every child can pick their own free pumpkin. If that's not amazing enough, try the Knight Train corn maze. It's not Halloween-y per se, but it's certainly very cool.
All aboard the haunted express! A haunted train? Beat that, Disney World's Haunted Mansion! The Haunted Express at New Jersey Museum of Transportation at Allaire State Park is a must-see. The Haunted Express travels only by night through the haunted woods of Allaire State Park. Trains leave every 30 minutes from 7:30 pm to 9:30 pm, on Fridays and Saturdays in October.  (Tickets must be purchased in-person only) For more info, contact Allaire Village at 732-919-3500.
It's only one day, but it's a good one. The Annual Pumpkin Festival at Whippany Railway Museum on the first Sunday in October includes a train ride, Halloween Crafts Fair and lots of spooky-ish characters milling about. Tickets sell out quickly, so buy early! For more info, call 973-887-8177.
And if you prefer pumpkins to ghosts, the Black River and Western Railroad operates autumn Pumpkin Trains Saturdays and Sundays in October. Admire the fall foliage on your way to Pumpkin Junction where you can pick your own pumpkin and enjoy refreshments for an additional fee. For more info, call 908-782-6622.