DIY Kids: FREE Crafts at Lowes, Home Depot & Michaels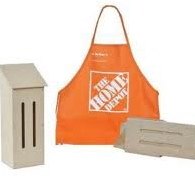 Looking for some cheap and fun entertainment for the kids in the cold weather? (and we're talking really cheap because it's really cold...) Look no further than your local DIY outlet. Entertain the kids AND run some errands. Best of all? These events and the craft materials are all FREE!
Build and Grow Clinics at Lowes
Not only do the Build and Grow clinics include a free craft, but it also includes a free apron, goggles, project themed patch and a certification of merit upon completion of the project. The Clinics take place on Saturday mornings. Coming up: a music box on Saturday February 12 and a race car on Saturday February 26. You must register online to participate. Recommended for kids 5-12.

Kids' Workshops at Home Depot
These once a month "how-to workshops" are drop in. Just show up at the designated time and your child will receive a kid-sized orange Home Depot apron and a free craft project. Saturday February 5th you can make a heart shelf. Recommended for kids 5-12.

The Knack Free Family Events at Michaels
It's a dream come true: at Michaels not only is the craft project free, but your house also stays glitter-glue free! Projects are offered nearly ever weekend. On Friday February 4 from 4pm to 6pm you can make Valentine's Day Candy Photo Holders, on Saturday February 5th from 10am to noon you can make a vinyl figure doll, on Saturday February 5th from 1pm to 3pm you can make a Valentine Candy Melt Pop, on Sunday February 6th you can decorate a Valentine's Day Box, etc.  For kids 3 and up.