Disney's "African Cats": Review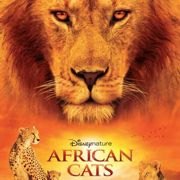 My daughter loves all things feline, so I was thrilled to take her with me to preview this film (opening today). She was hoping for adorable lion cubs and I was hoping for a great story, awesome cinematography and thrills/chills. I'm glad to report that Disney did not disappoint either of us.  "African Cats" is a beautiful and moving documentary about the love of (cat) mothers for their (kitty) children. The expression "she's like a mother lion" will make a lot more sense once you've seen "African Cats".
Filmed in the Maasai Mara National Reserve over a period of two years and narrated by Samuel L. Jackson, the documentary follows a few main 'characters': Fang, an old lion with a dramatically broken tooth, Sita, a (single) mother cheetah striving to protect her three surviving sons after losing two to hyenas, and Layla, an aging lioness and her devoted cub, Mara. The narration ascribes many emotions and thoughts to these cats, but the remarkable close-ups (directors Keith Scholey and Alastair Fothergill attached a helicopter camera called the Cineflex to the back of a truck and raced along with the animals) pretty much convinces you that the animals are, indeed, feeling and thinking all of it. And since the filmmakers followed these animals over such a long period of time, a full drama is played out right in front of you, chock-full of love, loss and humor.
I will warn you that this is a film about wildlife and cuddly cheetah babies do get eaten by hyenas (off-screen, thankfully) and the mother lion does die (of course she does—it's a Disney film, after all), so be thoughtful about your kids' ages/personalities and how much they can handle. My 6 year old loved the film, but my 5 year old was terrified and spent the last half in the hallway with his fingers in his ears so that he wouldn't hear the thunderous roars of Fang. But even he couldn't resist trotting back in occasionally to see the lion cubs romping with each other or nuzzling into their moms. He could relate. We all can. Which is what makes "African Cats" such an incredible experience. Treat yourself on Earth Day to a true tale of one of our planet's most precious commodities.