Clip, Snip and Style: Top New Jersey Children's Hair Salons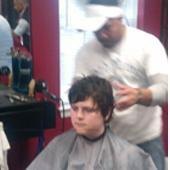 Justin Bieber may travel with a personal stylist, but when it comes to kids' haircuts, the rest of us are fated to find a salon that won't elicit screams of terror and battles of will.  Lucky for you, we've rounded up a group of the best New Jersey children's hair shops–places that not only cater to kids, but coddle them with treats, video games, race car chairs and HDTV— a far cry from the buzzcut-only barber shops of our day! We've even found a few that have accomodations for special needs kids to make their haircut less traumatizing. Oh, and remember to grab a trimming from the sweepings as a keepsake–Bieber's lock just sold on Ebay for $40,668.–and hey, you never know who'll be bidding on your future star's hair in the future!
A Cut Above (Sparta)
Forget everything you know about kiddie salons when you enter these doors.  A Cut Above is a city-style, slick, male customer-only modern barber shop that specializes in trendy cuts, fades, mohawks and fresh hot towel shaves.  There's sports (of course) and more on the flatscreen TV's, and a playstation for kids waiting, but they'll find more entertainment in watching these style-masters shave stars, graffiti, even football team symbols and numbers on customers' scalps!  If your little guy just wants a trim, that's fine, too, in fact, he'll be in-and-out in a flash, which is a treat in and of itself.  Call 973-729-9272 for more information.
Zayna's Cuts for Kids (Pompton Lakes)
Voted "Best Hair Salon" and "Best Place to Throw a Child's Birthday Party" in New Jersey's Suburban Trends 2010 Reader's Choice Awards, this salon brings it!  Yes, they have the specialty car/jeep styling chairs; movies and video games on widescreen TVs; and play areas outfitted with train tables and toys;  but this shop takes it to the next level by transforming each station into a different theme: the jungle station boasts grass leaves and wild animals, the NASCAR station is full-on Lightning McQueen; and the princess station features a huge castle surrounding the mirror.  Owners Moody and Maisha Haopshy also bring an environmentally-friendly approach through their sole use of organic, chemical-free hair products.  If that weren't enough, consider that their shop sells toys and hair accessories created by local mothers; promotes local businesses, and participates in loads of fundraisers like Locks of Love, with 100% of proceeds going to children's charity. Kids can get free ear piercings with a $25. purchase of earrings, complimentary temporary tattoos to boys, free mini-manicures for girls, and complimentary first haircut certificates and photos.  Additionally, this salon services in specialized treatment for special needs children.  And NOW you know why they won! Call 973-831-2390 for more information.

Rita's Snips for Pips (Ridgewood)
"We'll do anything and everything to stop a kid from crying," claims shop owner Rita Ganimian, and she definitely holds true to that offer!  Kids enter a sweetly-styled salon complete with plane and race car styling chairs each facing a personal HDTV/DVD player; a play area filled with cars, dolls and toys; a gaming area with an Xbox and Gamecube; and a shop filled with fun kid-geared hair accessories and products. This shop also caters to children with special needs through their skilled, patient stylists and a private room. If you need a trim, too, you can pop into the private room.  Or you can use the free WiFi to get some work done, since your hands will be free instead of forcibly holding down your kid in the barber chair! Call 201-612-7477 for more information.

Sharkey's Cuts for Kids (Berkeley Heights)
This national franchise caters to kids from the cradle to the car-drivers. Little ones choose from a Blue Mini Cooper, Purple Barbie Jammin Jeep, Lightning McQueen Race Car, or a Standard Black Chair.  The grade-school crowd can choose from a Harley Davidson Motorcycle, Barbie Jeep, Hummer, #8 Dale Earnhardt NASCAR , Blue Angel Jet Fighter Plane, Big Red Jeep, and Sparkling Silver Mercedes.  Tweens and teens get to play Playstation 3, X-box 360, and Nintendo Wii games (all on 40" Plasma TVs) or watch their favorite sporting events or music concerts while getting their haircut!  All stations allow children to view their favorite DVD'S and videotapes.  Better yet, you can reserve your special seat when you make your appointment online–so no fighting over where to sit! Should you have to wait, no worries, there's a mini arcade full of children's video games, computers, and pinball machines; and a shop filled with toys, products and more.  Your new problem may be dragging your kids OUT of the salon! Call 908-665-4222 for more information.
Snip-its (Princeton, Rockaway)
Holy Dr. Seuss!  You'll feel you've entered the land of "Horton Hears a Who!" at these salons, covered floor-to-ceiling with murals, splashy, vibrantly-colored tubes, TV's and gadgets.  This isn't an ordinary haircut, this an adventure!  From start to finish, a haircut at Snip-its is truly an adventure. Upon entry, kids receive a Snip-its Adventure Club card, then meet and interact with Snips and the Gang: Flyer Joe Dryer, Curly Comb, Maranga Mirror, Jean Luc le Spritz, and Marlene & Charlene, the Clip-ette sisters in a Snip-its Animated Show.  On to the styling station, where kids keep entertained on the Snip-its Adventure Play Stations, featuring custom computer games and activities with Snips and the Gang.  Upon completion of the haircut, kids trade in their Adventure Club card, along with a lock of their freshly cut hair, for a special prize at the Snip-its Magic Box.  Whew!  Visit the website for an online coupon for $5.-off for a new customer haircut, and $3.-off a returning customer haircut. There's also bring-a-friend referral program, so your playgroup buddies can enter the Seuss-like salon. Call 877-SNIP-ITS for more information.

DEPASQUALE The Spa (Morris Plains)
"And what's in it for me?"  Here's the place to answer THAT question.  No cutesy cartoons, no race car chairs, no train tables–just an immaculate, serene location for both you and your little one to be pampered and primped.  Both of you receive a complimentary consultation before services;  guidance about which services, products and accessories will enhance your lifestyle; and a personalized recommendation for beauty and wellness products that maximize and maintain the results of your visit straight through to the next.  While your offspring receives a cut, styling, color extensions, surfer highlights, mini-mani/pedis with gems, or a make-up lesson, you partake in a Japanese Steeping Tub, an Italian rain shower, a relaxing massage, or a full range of hair and skin services.  Yummy.  Then, on to the store filled with sumptuous leather pocketbooks, jewelry, hair and skin products, and gorgeous make-up.  Darling, Sharpay would be proud. Call 973-538-3811 for more information.
All About Kids & Teens (Clark)
Forget the name, this salon caters to the entire family, and its location within a mall means one-stop shopping and shearing!  The waiting area filled with toys, a train table, playhouses, DVDs, movies, video games, and books keep kids and adults occupied before the cut.  There's also a great range of stylebooks, allowing kids and parents to pick a style together BEFORE sitting in the special car-chair with the stylist scissors-in-hand.  Online appt scheduling is available, and if it's baby's first haircut, you'll receive a free first haircut keepsake. Call 732-388-4600 for more information.