Best of New Jersey for Kids and Families: Morris County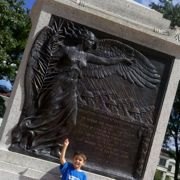 Our friends over at NYC Mommy Poppins have a fantastic monthly feature where a different NYC neighborhood is highlighted each month. Here on this side of the Hudson we wanted to get in on the action too, Jersey-style, of course. So starting this month, Mommy Poppins New Jersey will be running our own monthly version entitled "The Best of New Jersey for Kids and Families", which will be divided up by county. First up, Morris County, where I have spent the last 15 years (nine as a mom) exploring and enjoying all that this great area has to offer. So much good stuff here that it was hard to narrow it down to only the Top 25 of Morris County.
Arts and Culture – There's no need to always hop that train or bus into NYC to bring culture to your kiddos. Lucky for us in Morris County, there are some great local venues right in our neighborhoods.
Playgrounds and Parks -- They abound here in this expansive county, so it was quite the challenge to mention only a handful. These are our family's favorites, and all great for different reasons.
The Tourne County Park 
You will love taking the kids to Boonton Township to Tourne Park. Hike to the top of the mountain (there's also a paved path as well) to see the fantastic view (and wear them out for an early bedtime too, BONUS!). This park boasts one of the best sledding spots in the winter, so it's a popular spot after a nice snowfall.  In the nicer weather, the shaded playground is a great location for afternoon playtime and then you can follow it up with that awesome hike!
Imagination Station at Horseshoe Lake Recreation Complex 
This beautiful new playground in Roxbury opened in 2010 and has been providing a boatload of fun for kids ever since. If this awesome playground isn't enough to keep your kiddos engaged for hours, there's also a nice paved trail for bike/scooter riding (or stroller pushing), hiking trails, as well as basketball courts for the bigger kids.
Montville Community Playground 
This is the best playground by far for families that have kids of varying ages. There are so many structures for each age group your children will never want to leave (well, until they get hungry). However, it's fenced in because of the size of the park and sometimes it can be a bear to keep track of all your kids. Thankfully my kids are slide enthusiasts, so I am always able to find them around one of the many giant slides that this park offers.
Loantaka Brook Reservation
We've highlighted this park before as one of the great places in NJ to picnic with your family. Not only does this Morristown park provide a lovely shaded spot to dine, but there's a great playground for the kids to play (right next to the picnic tables – SCORE!). If you're lucky, you may also see horses on their trail rides here. We also love riding our bikes, walking or scootering on the miles of paved (and fairly flat) and shaded trails.
Pyramid Mountain 
If you want to do some SERIOUS hiking in Morris County, head on over to Pyramid Mountain in Montville Township  You can even marvel and take some fun pictures at Tripod Rock, a 160-ton boulder balanced atop three smaller rocks, created in the ice age.
Must-visit Shops & Good Eats
Must-visit Downtowns
You can take a ride on the NJ Transits Midtown direct to see all the bustling downtowns that are located in Morris County: Morristown, Denville,  Morris Plains, Madison , Chatham, Chester, Boonton  and Dover. You can also just hop in your car to explore their local shops and restaurants and make a day of supporting local small businesses.
Denville Dairy
The long lines (and wait) in the summer for this incredibly delicious homemade ice cream are definitely worth it! However, now that it's a bit colder, obtaining this counties' best hard ice cream is thankfully much easier. Newly remodeled from the flooding from Hurricane Irene, this popular Denville icon hasn't lost any of its charm, great service and pure ice cream awesomeness. If you aren't in the immediate area, this spot is certainly worth the drive!
Farmers Markets 
Morris County is blessed with ten local farmers markets that run from spring to fall.  Although the season is over, all of these are worth visiting once winter checks out of town. Check them out in: Parsippany, Morristown, Denville, Morris Plains, Chatham, Madison, Boonton, Riverdale, East Hanover and Netcong
Trader Joes
This store is not native to Morris County, of course, but what kid doesn't LOVE accompanying their parents on a trip to Trader Joe's. The store in Florham Park which recently moved to their new larger space on Columbia Turnpike is as kid-friendly as it gets. Free samples, friendly employees, stickers galore, a scavenger hunt to find Louie the Lobster (which buys me time to actually SHOP), and a treat from the treasure box once Louie is spotted all make this loads of fun on a Saturday morning (or anytime really).
Docs Kitchen
Highlighted as a Mommy Poppins favorite restaurant for outside dining, this popular Denville establishment is a great spot for breakfast or lunch anytime of the year. Their menu is basic diner food with a twist – like homemade bread, giant amazing omelets, specialty pancakes--it's all good! Go early for lunch as they close at 3pm.
Century 21
For a great bargain on designer kid's clothing, check out Century 21 in downtown Morristown by the green. With three levels of shopping goodness, you'll be sure to find something for your kids, or even yourself. I'm very thankful that this is one of the few stores my kids will let me shop at for more than two minutes before whining to go home!
Activities and Places to Play
Kidnetic 
This Montville indoor playground was highlighted by Mommy Poppins this fall for being a great location for Parent's Night out events  thoughout the year. In addition, it is a wonderful place to take the kids to burn off energy for those cabin fever times this winter. Their 3 level indoor structure and play area will keep your kids happy for a long time (and mom and dad too with their free wifi!) They have open play sessions throughout the week, Daddy & Me playtime on Sunday mornings and monthly Family Fun night events too.
Jump on in 
Besides being a great birthday party location for the kiddos, this bounce center in Boonton has 90 minute open bounce sessions throughout the month for kids of all ages to play (and parents to sit back and take much needed little break). 
Mennen ice skating
Located in Morris Township, this local ice skating rink specializes in ice skating lessons, as well as offers open ice skating time slots throughout the week and weekends. Word of advice - Beware of birthday parties as that gaggle of giggling girls can be quite deadly when they accidentally knock you down. Yep, I'm speaking from experience here!
Florham Park Roller Rink 
Rollerskating (or blading) hasn't changed much since the days of my junior high school skate night (well, except for the fact that I'm not skating to Michael Jackson's PYT anymore). My kids really cannot get enough though and thankfully this local rink in Florham park offers reasonably priced open skate times so they can get their skate on fairly regularly.
Glassworks 
Another popular Morris County birthday party location, Glassworks in Morristown also has classes and walk in open studio hours for you and your kids to create beautiful pieces from fragments of glass. Definitely for school aged kids and up, since young kids and shards of glass don't really mix well.
Brushes and Bisque 
Another newly remodeled space in downtown Denville, Brushes and Bisque is a paint your own pottery and clay studio that offers classes, birthday parties and of course open paint sessions for your child to make their own artistic creation. We love making plates or bowls during the holiday season to give as gives or use for ourselves.
Michael's
This craft store chain continues to impress with a ton of classes, as well as free activities for the kids. Their new location in Parsippany is one of my kids' favorite stores and their weekly allowance is usually spent on their inexpensive crafting goodies.