Turkey Takeout! 5 Places to Pre-Order your Thanksgiving Meal in New Jersey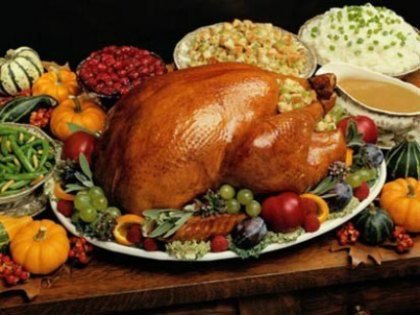 Thanksgiving may be a day to relax with family and watch football but let's face it - it's also a heck of a lot of cooking, cleaning and organizing. So if the thought of playing host or hostess is just a tad bit overwhelming, why not get a little help in the cooking department this year? You could eat out but you could also set the table, do a little light cleaning and then pick up a fully cooked, delicious Thanksgiving meal at one of these local joints.
Whole Foods (Millburn and other locations throughout NJ)
For an elegant meal from the pros, Whole Foods offers an array of organic and healthy choices. Whether you're hosting a small get together for 4 or a feast for 12, each store's website lists Thanksgiving packages by price. You can choose a turkey (or Tofurky!) or if you're game to tackle the bird on your own, Whole Foods offers side dish only bundles too. Succulent sides include traditional New England stuffing, green beans with almonds and cranberry orange relish. Herb-crusted turkeys come either fully cooked or oven ready. Vegetarians coming to dinner? The Vegetarian Package comes complete with a whole vegan turkey, plus vegan stuffing and gravy. For more information on pricing and ordering from a nearby Whole Foods, visit their Thanksgiving webpage.
Anthony David's (Hoboken, NJ)
The always delicious and reliable Anthony David's will cater your entire Thanksgiving meal, literally from soup (Roasted Butternut Squash with Granny Smith Apples) to nuts (a variety of pies) and everything in between. You can order online until November 23 at 11am. 201-222-8399
Delicious Orchards (Colts Neck, NJ)
So you've decided to cook the turkey, the stuffing and the rest of Thanksgiving dinner from scratch? Good for you! But if producing a fabulous dessert has you stressed, Delicious Orchards Country Food Market has some awesome homemade pies to complete your meal. They make their pumpkin and apple pies from scratch each and every morning. Bakery manager Donna Annunziata says these are no ordinary desserts: "We make our apple pie from fresh-peeled apples, no preservatives and tons of fruit inside. Our pumpkin pie is creamy and custard-like - perfect to pair with whipped cream. We sold over 40,000 pies for Thanksgiving last year!" You can also try out their apple tart pie topped with crumbly brown sugar goodness or order up a batch of their "single-serving" mini pies in assorted flavors. Although both their apple and pecan pies are guaranteed to be in stock all of Thanksgiving week, other pies such as pumpkin are available on a first come, first serve basis. For more information, please call 732-462-1989.
Elements Cafe (Haddon Heights, NJ)
Serve an old-fashioned (with a few twists) dinner for four people, from your standard herb-roasted turkey breast to the new and different honey soy variety; and Apple Rosemary Sorbet for dessert? Mmmmm. Deadline for ordering is November 22. 856-546-8840
Morton Williams Marketplace (Jersey City, NJ)
Take one look at the prepared food counter at Morton Williams stocked with an impressive selection of deli meats and freshly made sushi and you'll see why it's a smart choice to let them do your Thanksgiving cooking. Start with apple-butternut squash soup before moving on to an antipasto or cheese platter before your main course of a Bell & Evans roasted turkey or an herb-crusted rack of lamb with garlic and rosemary. Round out the meal with stuffed acorn squash or honeyed carrots and definitely save room for their famous Brooklyn Blackout Cake or a classic slice of pumpkin pie.
Happy Thanksgiving!
Originally published 2012