15 Fun Things to do in Montclair, NJ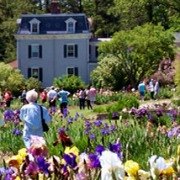 Nestled in Essex County, Montclair is located just 12 miles outside of Manhattan. This walkable suburb is home to Montclair State University, the Presby Iris Gardens and the Montclair Art Museum. There are eighteen public parks and two nature preserves within the town borders. From the Upper Montclair shopping area to Church Street's shops, its eclectic restaurants and kid-friendly activities make this a fun day trip for anyone in Northern New Jersey.
Montclair Art Museum
Currently exhibiting Georgia O'Keefe, Montclair Art Museum (better known as MAM) hosts a variety of family programs throughout the year, including the upcoming Pumpkin Carving, and monthly Home School Days. Visit MAM's Family Learning Lab, located on the third floor. With hands-on art activities and creative thinking projects, visitors are invited to experience and learn about exhibitions from the inside out. Admission is $12 for adults, $10 for student and children under 12 are free of charge. Free First Thursday Nights and Free First Fridays: Museum galleries are free of charge for everyone the first Thursday of the month 5–9 p.m. and the first Friday of every month. Hours: Wednesdays through Sundays, 12:00 p.m. – 5:00 p.m. Phone: (973) 746-5555
Presby Memorial Iris Gardens
In late spring, flower lovers assemble in Montclair's Presby Memorial Iris Gardens for a peak at the annual bloom. With more than 3,000 irises annually, families can stroll the grounds for a quiet day amongst local artists and photographers. This Essex County park also offers family-friendly off season events, including the pumpkin-themed Gardens Aglow and summer movie screenings. Admission is free during bloom season and for most events. Hours: Closed daily, except for special events, until bloom season. Phone: (973)783-5974
Yogi Berra Museum and Learning Center
Yogi Berra Museum and Learning Center, located on the Montclair State University campus, has become a popular destination for sports fans and educators. Offering a mixture of baseball memorabilia and look at Yogi's extraordinary life values, this isn't your typical sports museum. YBMLC created programs that foster literacy, integrity, social justice, sportsmanship and dedication in all aspects of life. General admission for adults is $6, students are $4 and children under 5 are free. Hours: Wednesdays through Sundays, 12:00 p.m. – 5:00 p.m. Phone: (973) 655-2378
During the spring and summer, you can catch a New Jersey Jackals game at Yogi Berra Stadium, located next door. This Can-Am league team made it to the Champion Series before its loss to the Quebec Capitales. Phone: (973) 746-7434
The Wellmont Theatre
Located in downtown Montclair, just off Bloomfield Avenue, The Wellmont Theatre went through renovations in 2008. This historic theater, originally opened in 1922, now hosts popular music and comedy shows.  Although not toddler friendly, some shows will be a great adventure with your teen – like this Friday's Indigo Girls appearance. Phone: (973) 783-9500
Montclair Public Library
Montclair Public Library host daily events for families, including Toddler Time, Newborns in the Library and the Halloween-themed Party for Ghouls and Gobils. The Little Read 2012 celebration recently concluded, hosted by the Montclair Public Library Foundation, which host kid-friendly bedtime stories and a Saturday morning reading by Stephen Colbert. Hours: Check the schedule for the Main Branch and Bellevue Branch hours. Phone:  (973)744 -0500 ext. 2236
Montclair Farmer's Market
Located next to the Walnut Street train station, the Montclair Farmer's Market is now open for its 20th season. Open Saturdays from 8:00 a.m. to 2:00 p.m., this social market is home to dozens of food artisans, including the Montclair Bread Company and A Shore Catch. Check the locally grown fruits and vegetables, fresh cheese and also the pickle bar! Hours: Saturday (until November 17) from 8:00 a.m. to 2:00 p.m. Phone: (973) 228-2466
Montclair Fine Arts
Montclair is home to several fine art galleries; most are free and open to the public. While strolling around town, make note of BrassWorks on Grove, Gallery 51, Gallery Loupe, Essex Fine Arts and Studio Montclair's Block Gallery. Please call ahead for hours of operation.
Montclair Film Festival
Created to nurture and showcase the talents of filmmakers from around the world, the Montclair Film Festival made an immediate impact on the community. Look for upcoming events in May 2013.
Montclair Historical Society
The Montclair Historical Society is home to the Nathaniel Crane House, Israel Crane House, Clark House and Library and Charles Schultz House. These historic houses are open for public tours, please call ahead for times and tour information. Phone:  (973)744-1796
Montclair Parks & Recreation
With more than 18 public parks, Montclair offers something for everyone. From Brookdale's large dog park to the ice skating rink at Edgemont, Montclair has more than 175 acres of open space. For a complete listing of parks and services, please visit the Essex County Park System website.