Read Across America and Celebrate Dr. Seuss's Birthday in New Jersey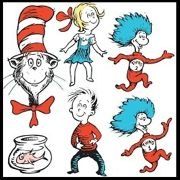 "Read Across America Day" is a fun and important day for your little reader! This year Read Across America Day falls on March 3, 2014, but we should be celebrating reading everyday. We're sure your local library and child's school is celebrating Dr. Seuss's birthday and Read Across America, but why let them have all the fun? Here's our roundup of fun reading events and ideas for celebrating Read Across America for New Jersey kids and families.
Fun Ways to Celebrate Read Across America at home:
1. Have each member of your family pick their favorite Dr. Seuss book or any favorite book, wrap them up like presents and open after dinner to spend a night reading instead of screen time.
2. Create meals based on famous book fare such as Green Eggs and Ham, In the Night Kitchen, Each Peach, Pear Plum, Charlie and the Chocolate Factory, or eat everything The Hungry Caterpillar ate -- only if you really want to be festive! 
3. Watch a movie based on your favorite book with the entire family!
4. Donate a book to your child's school library or classroom.
5. Use your smart phone or Flip Camera to create a book trailer or review of your child's favorite book and submit your videos to Schooltube.
6. Volunteer at your local library or dress up as your favorite character and volunteer to read at your child's school.
Read Across America/Dr. Seuss's Birthday New Jersey Events:
Dr. Seuss Family Festival at the Morris Museum (Morristown, NJ)
A day at the Morris Museum never been more fun!  Come celebrate the birthday of beloved children's author Dr. Seuss and enjoy Dr. Seuss related activities for the whole family. The festival will include events like: create a batch of Ooblek, play Dr. Seuss Bingo, make a Lorax mustache and more!
Miss New Jersey Celebrates Read Across America (Little Egg Harbor, NJ)
Come celebrate Read Across America with Miss New Jersey and the mayor of Little Egg Harbor as they read stories. There will also be Dr. Seuss related crafts and fun! The event takes place at the Little Egg Harbor Branch of the Ocean County Library.
Michaels (Various Locations in NJ)
Celebrate Read Across America with a bookmark making craft at Michaels. Ages 3 and up are welcome. See a store associate for details. For locations, click here. 
Read Across America Story Time and Craft (Jersey City, NJ)
Word Book Store in Jersey City will be celebrating Read Across America with a Seuss story time and Cat in the Hat mask craft. Great for ages 5 and up, or younger if parents want to get crafty! A Facebook reservation is encouraged, but not required. 
Breakfast with Dr. Seuss (Newton, NJ)
Breakfast (green eggs and ham, anyone?) hosted by characters, a Dr. Seuss Story Time and Character Dress up contest, roller skating, tubes and slides rock wall and a bounce house. Who could ask for anything more? 973-383-7231
Check out your local library and Barnes and Noble for local events.