New Playgrounds in Jersey City, Union City & (maybe soon) Hoboken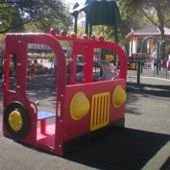 Have you checked out the new playgrounds in Jersey City, Union City and Hoboken?  Hamilton Park in Jersey City and Washington Park in Union City are completely redone, open to the public, and are prime summer destinations for the kids.  That is if you like mini-golf, barbecuing, tennis, and brand new spraygrounds, jungle gyms, & swings!  If you haven't visited them yet, pack your bags (and swimsuits, and tennis rackets, and portable grills) and make it a day at the park! 
Hamilton Park (Jersey City)
This Jersey City park has a brand spanking new playground, sprayground, and best of all a new mini-golf course for the summer!  The new playground and sprayground are located in the North West corner of the park.  There is an adorable new toddler park and big kid park.  You will find several new jungle gyms with slides but also a very cool obstacle course type structure, as well as a new swing set.  I also liked the fake rocks for kids to climb on in the big kid park.  The new sprayground is on the small side (and roped off with "do not enter tape" for the moment), but in the heat of the summer some sprinkler action is always in order.
What really makes a trip to this playground worth while over the summer is The Golden Door Mini-Golf Exhibition of the Jersey City Museum.  Located off the park on Pavonia Avenue between Eighth and Ninth Streets, the mini-golf course was created by local artists so each of the ten holes is not only functional but fun!  There are loops, crazy slopes, mirrors and flags, and more.  The mini-golf course is open daily from 10am to dusk and costs $5 per person.
Washington Park (Union City)
Pack up the grills, bathing suits, and tennis rackets for this fabulously redone park!  Washington Park, located on New York Avenue just 2 blocks from the 9th Street/Congress light rail stop in Hoboken (take the elevator to the Heights), has had a complete makeover with a huge new playground and big new sprayground.  Best of all, picnic tables where grilling out IS allowed are sandwiched between the playground/sprayground area and the tennis courts which means that it is the perfect venue for the whole family for a weekend or evening barbecue!
Washington Park used to have a large number of swings and when they redid the park they did not leave that aspect out.  There are at least five swing sets ranging from toddler swings to big kid swings.  In the toddler playground there is a police-car jungle gym and for the big kids there is a huge farm-themed structure with big slides.  Kids will not be bored here: there is even a climbing structure made out of plastic hoops and metal chains to add some challenge.
As for the sprayground, gone are the concrete animals and in its place is a pirate themed sprayground that even has a water spraying seamonster!  The sprayground is separated from the playground by a pavilion so  you can easily get from one area to the other.
Pier C (Hoboken)
Unfortunately this playground's opening looks like it will be delayed until the Fall, but a sneak peek makes you wish it was open now!  There is a huge slide that rivals the one in Teardrop Park in NYC and a dome-shaped climbing structure and spinny like at the new playground in Union Square Park in NYC, just in case you feel the need to try out the new playground features at an alternate venue.
Looking for more fabulous playgrounds to go to this summer?  We've covered a few spraygrounds in the area although know that Firefighter's Memorial Park in Union City is restricting use of the pool and sprayground to Union City residents only.  You can find more destination playgrounds here. Also, check out NJ Playgrounds, a great site that gives you the low down on lots of great New Jersey playgrounds.