Mostly Free & Fun Things To Do With NJ Kids This Weekend Jan 5-6: Owl Prowl, Animal Tracking, Dino-mite Meet & Greet & More!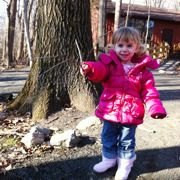 With decorations packed up and put away and out of town guests gone, how about bundling up for some winter family fun? Check out story time at the Trailside Nature Center and Owl Prowl at the Tenafly Nature Center. Or indulge your little one's imagination at the Battle of Princeton Family Adventure and the Dino-mite Meet and Greet at Liberty Science Center. Read on for our top picks and you can find a listing of all NJ activities in our Event Calendar.
All Weekend
Nature Story Time (Mountainside, NJ)
Join a Trailside Nature Center staff member for engaging and entertaining nature stories themed around the winter season. After story time, stick around the center and explore – have the kids crawl through an old log to view live fish and aquatic turtles or learn about how Native Americans lived by ducking into a walk-through wigwam. Feeling adventurous? Brave the cold and hike one of the many trails in this 2,065 acre preserve. Saturday & Sunday 3pm. FREE (donations welcome). 908-789-3670
MAM Family Learning Lab: Exploring 'O'Keeffe (Montclair, NJ)
For an indoor retreat from the cold and some creative fun, stop by the Montclair Art Museum this weekend to explore the artwork of American favorite Georgia O'Keeffe with your budding art lovers. Explore this interactive exhibit on for self-guided art activities, children books, and fun through learning with tactile objects. If you're up for more art, venture into the rest of the museum and check out Native American artwork collection or their gallery of abstract American art. Saturday & Sunday 12-5pm. FREE with museum admission. 973-746-5555
Saturday, January 5th
Animal Tracking Workshop (Cranbury, NJ)
Bring the kids to the Plainsboro Preserve to learn about the art and science of animal tracking. Naturalists will introduce a variety of tracking skills including clear print classification, trailing, animal locomotion and reading signs. The class will also offer helpful tips for tracking during an outside field session. Be sure and dress warmly for the cold weather and bring a notebook! Recommended for ages 6 & up. 2:30-4pm. $3/Person Members, $5/Person Non-Members.
Battle of Princeton Family Program (Princeton, NJ)
On January 3, 1777, General George Washington launched a cunning attack on British troops in Princeton and dealt the enemy its first stinging defeat. To commemorate this pivotal moment during the Revolutionary War, families will examine military artifacts, then walk to the Battle Monument, retracing part of the battle at Nassau Hall. Recommended for ages 6 & up. $5/Child (One adult free with each child), $4/Child if HSP members. (609) 921-6748 x102
Factory Nights (Fairhaven, NJ)
Small Factory opens its Fair Haven studio for kids to watch movies, eat theater snacks, play on the computers and sing and play instruments in the sound booth. These nights are also great opportunities for parents to enjoy a few hours of conversation and a quiet dinner, especially after the busy holiday season! Choose from 3 time slots filled with different activities such as an 'Arts Pajama Party' complete with sleeping bags and snacks to hang out until it's time to head home. Drop off program for ages 4-12. Friday & Saturday evening 6:30-10pm. $10-20/Child depending on selected activities. Please call 732-212-1088 to pre-register.
Sunday, January 6th
Free First Sundays at Zimmerli Art Museum (New Brunswick, NJ)
Admission is free to all the first Sunday of every month at Rutgers University's Zimmerli Art Museum. Join a museum guide in the lobby for a family oriented tour at 1pm. From there, scavenger hunts and family activity guides are offered throughout the afternoon from 12:30 to 4pm. Also be sure and drop by the Studio Z learning center for self-guided learning and creativity. The studio's computer terminal includes the Junior Curator program, which allows kids to become a curator and organize Zimmerli artworks. The space also features a selection of works created by Summer Art Camp participants, as well as works by students from the New Brunswick public school system. 12-5pm. FREE. 732-932-7237
A Dino-mite Meet and Greet (Jersey City, NJ)
Have you ever wanted to meet a dinosaur? At these unique events, families will craft dinosaur puppets and introduce their new friends to a very special guest: a baby dinosaur from Erth's Dinosaur Zoo! Stick around to enjoy an IMAX movie or one of the Liberty Science Center's mainstay attractions such as the Cartoon Network exhibit or the I Explore room for wee ones ages 2 to 5. They've also got an impressive mini-zoo of animals from tortoises to snakes to iguanas. 12-2:30pm. FREE with general admission. 201-200-1000
Owl Prowl (Tenafly, NJ)
Tenafly Nature Center is teeming with night life (even in the winter!) and one of its star creatures of the night is the owl. Join a TNC Environmental Educator for a short introduction and a visit from a live owl. Your group will then bundle up in coats and scarves to venture outside in search of these nocturnal feathered friends. Rain or shine. Pre-registration required. Recommended for ages 5 & up. 5-6:30pm. $5/Members, $10/Non-Members. 201-568-6093
Don't forget: We have additional activity listings in our Event Calendar. And if you are heading into NYC for the weekend make sure you visit the New York City Mommy Poppins events calendar to get the latest on all the fun to be had NYC-style.
Planning an event? Submit it to our calendar.
Did someone forward you this email? Subscribe to our free newsletter.
Tags: