Mostly Free & Fun Things To Do With NJ Kids This Weekend Jan 26-27: Chinese New Year, Fire & Ice Festival, Sea Turtles & More!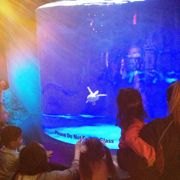 With temps well below freezing (and snow in the forecast for this weekend), it can be all too easy to sit around inside. But with some awesome events going on this Saturday & Sunday in New Jersey, there's no reason to let cabin fever set in. Check out a Chinese New Year celebration, a Maple Sugaring demo or take in a puppet-show performance of the Little Prince. Read on for our top picks and you can find a listing of all NJ activities in our Event Calendar.
All Weekend
Maple Sugaring Demo (Chatham, NJ)
Did you know New Jersey has its very own red maple trees that produce delicious maple syrup? Head to the Great Swamp Outdoor Center this weekend for a fun and informative demo. After a crash course on the sweet stuff, you'll venture outside to watch the magic of maple tree tapping and discover how the sap turns into that delicious treat we pour over our favorite breakfast. And of course, the best part is the taste test at the end! Saturday & Sunday 2pm. $3/Person. 973-635-6629
Turtles: Journey of Survival (Camden, NJ)
For a day of marine fun, check out the newest exhibit at Adventure Aquarium, Turtles: Journey of Survival. Check out a collection of exotic species of both land and aquatic turtles from all around the world, including a tiny rescued Loggerhead sea turtle and a huge Alligator Snapping turtle. The rest of the aquarium is pretty neat too - don't miss the shark tunnel, the giant hippos in the African exhibit and the KidZone area for ages 5 & under. Saturday & Sunday 10am-5pm. FREE with aquarium admission. 856-365-3300
Saturday, January 26th
Chinese New Year Celebration (Hamilton, NJ)
2013 is the Year of the Snake, but not as the western world thinks of him. He's refined, charming, elegant, wise, and very lucky. Join the renowned Nai-Ni Chen Dance Company and master paper cutter Hou-Tien Cheng who use this ancient symbol of grace as inspiration for fiery dancing and dazzling design. Master Cheng creates anything you'd like using just paper and scissors, including the mighty serpent. And with twirling ribbons and martial movement Nai-Ni's troupe will beckon forth spring and to awakening all hibernating creatures. Paper cutting demo at 12pm, dance performance at 2pm. $15/Members (Grounds for Sculpture), $20/Non-Members. 609-586-0616
Fire & Ice Festival (Mount Holly, NJ)
Bundle up and head to downtown Mount Holly where you can warm your tummy and see lots of artistic eye candy while having plenty of free family friendly fun. The City of Mount Holly will play host to over a dozen professional and amateur ice carvers from up and down the east coast, over 40 amateur and professional chili cooks from around Burlington County plus a wide variety of interesting entertainment for young, old and everyone in between. Kids will have a blast watching ice carving demonstrations, dog sled demos and taking a ride in a real fire truck! 10:30am. FREE. 609-937-5700
Wonder Walk: The Magic of Winter (Hillsborough, NJ)
Winter weather is no reason to sit inside. Bring the kids to Duke Farms this weekend to run off some energy and learn a thing or two about nature.  Take an exploration walk through the woods and touch the tree bark, check for animal tracks in the snow or mud, and listen for the sounds of birds in the trees. Please note, the nature walk program is designed for families with children ages 5 and above. Dress for the weather, including appropriate footwear. 9:30-11:30am. $10/Person, $7/NJA Members (Maximum charge $22 per family). 908-722-3700
The Little Prince (Newark, NJ)
Embark on a magical journey through Antoine de Saint-Exupery's beloved book in this puppet-filled production that brings together some of the creative minds behind the Muppets. Follow the Little Prince as he leaves his home planet, lands on Earth, and sets out to learn about love, loss, laughter, and the inherent flaws within us all. This Little Prince features puppet creations by Emmy Award-winner Michael Schupbach (of Jim Henson's Muppet Workshop) and Monkey Boys Productions (whose Broadway work includes Avenue Q and Little Shop of Horrors). Recommended for ages 6 and up. 2-4pm. Ticket prices vary ($20-22/Person) depending on seat location. 888-466-5722
Sunday, January 27th
Build Your Own Terrarium (Mendham, NJ)
Create a terrarium to bring the outdoors inside for the winter! Your family will learn the proper terrarium planting techniques by creating your very own to take home at Schiff Nature Preserve. Naturalist Amy Seuberth will lead the class and all materials will be provided including a canning jar container, soil and plants. Your group will also take a brief nature walk to collect more items, and you can bring small treasures from home to personalize your project. Recommended for ages 7 & up. 2-4pm. $25/Person. Online pre-registration is required.
Junior Naturalist Program (Hillsborough, NJ)
During this program at Duke farms, elementary school-aged children and their parents will learn all about the wonders of nature, from how wildlife survives the winter to summer amphibians. Junior Naturalists will explore the environment in every season and in all kinds of weather, learning to use the tools professional Naturalists use. Upon completion of the program series, children will receive a Junior Naturalist Certificate, Junior Naturalist Ball Cap and Badge. Junior Naturalist parents will even receive native plants for their yard. Recommended for ages 6 to 11. 1-3pm. $7/Person or $70 for the entire Junior Naturalist Series. 908-722-3700
Ramona Quimby (Branchburg, NJ)
Hold onto your hats as you follow the latest breathless adventure of the world's most animated elementary school student. Ramona, the exasperating but lovable third-grader, has delighted young readers for over fifty years through the books of Newbery Medal-winning writer Beverly Cleary. Now, she comes to life on the stage in Ramona Quimby at the Raritan Community College Theater. Recommended for ages 5 & up. Show times at 1 & 3:30pm. $12/Person. 908-725-3420
Don't forget: We have additional activity listings in our Event Calendar. And if you are heading into NYC for the weekend make sure you visit the New York City Mommy Poppins events calendar to get the latest on all the fun to be had NYC-style.
Planning an event? Submit it to our calendar.
Did someone forward you this email? Subscribe to our free newsletter.
Tags: