Mostly Free & Fun Things To Do With NJ Kids This Weekend Jan 12-13: Nature Discovery Day, Camp Fair, Family Crafts & More!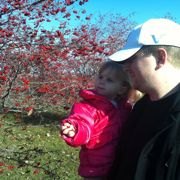 Get ready for a rare January weekend with mid 50's temps and round up the family for some fun, either indoors or out! Check out Liberty State Park's Nature Discovery Day or take the kids to see the wacky science show Doktor Kaboom! And if you're ready to start thinking about summer plans, drop by the New Jersey Camp Fair at Bergen Town Center. Read on for our top picks and you can find a listing of all NJ activities in our Event Calendar.
All Weekend
Nature Story Time (Mountainside, NJ)
Join a Trailside Nature Center staff member for engaging and entertaining nature stories themed around the winter season. After story time, stick around the center and explore – have the kids crawl through an old log to view live fish and aquatic turtles or learn about how Native Americans lived by ducking into a walk-through wigwam. Need a little exercise? Head outside and hike one of the many trails in this 2,065 acre preserve. Saturday & Sunday 3pm. FREE (donations welcome). 908-789-3670
Saturday, January 12th
Liberty State Park Nature Discovery Day (Jersey City, NJ)
Join the staff at Liberty State Park's Interpretive Center to learn fun facts about nature. Which tree did that leaf come from?  What bird is in your backyard? The hands-on activity stations will allow kids to answer these questions and more. If the family still has energy left to burn, check out the park's huge playground (with structures for both little ones & older children) or the meandering boardwalk with awesome views of Lady Liberty, Ellis Island and the lower Manhattan skyline. 10-12pm. FREE (pre-registration required). 201-915-3409
Austin the Unstoppable (New Brunswick, NJ)
Reigning master of the X-box and junk food junkie, 11 year old Austin must face the long-term consequences of an unhealthy lifestyle when he learns his mother has been diagnosed with Type II Diabetes. In partnership with ShapingNJ, this new musical comedy explores the challenges of one family learning how to make healthy choices together. This fun, upbeat musical is recommended for kids in grades 3 through 8 and includes a post-performance discussion. 12pm. FREE (but reservations strongly recommended). 732-246-7717
Museum of Early Trades and Crafts Family Fun Day (Madison, NJ)
Family Fun Day is held every 2nd Saturday of the month at the Museum of Early Trades and Crafts. Join the museum staff for lots of family fun and a hat making craft activity. Older kids & adults might also want to check out the museum's latest exhibit, Orphan to Apprentice: Child Indentures as Social Welfare. The museum also hosts other events throughout the winter, such as their 'Dragon Tales Pajama Party' complete with dragon puppet arts & crafts – please visit their events calendar for more details. 1-3pm. FREE with admission. 973-377-2982 x14
NJ Camp Fair (Paramus, NJ)
Can you believe it's already time to start thinking about summer plans? The New Jersey Camp Fair is an opportunity for parents and their children to meet and talk with camp directors and their staff, see DVDs of the camp and get an instant feel for where they'd like to spend the coming summer. Day camps, as well as sleep-away camps, will be represented. Each family will receive a free 50+ page booklet which contains a half-page summary of every camp participating. 12-3pm. FREE. 732-469-8910
Hamilton Slept Here Too! (Morristown, NJ)
George Washington wasn't the only founding father to sleep in the historic Ford Mansion. This large Georgian style home, built in the early 1770s, has seen many residents come and go, and is now one of the oldest house museums in America. Join a Park Ranger on a tour of the Ford Mansion and discover the role Alexander Hamilton played during the 'Hard Winter' and beyond. A great educational outing for kids ages 5 & up. 45 minute tours begin at 1, 2 & 3pm. $4/Adult, Children are FREE.  973-539-2016 x210
Sunday, January 13th
Doktor Kaboom! (Englewood, NJ)
Doktor Kaboom! is an interactive one-man science variety show suitable for all audiences. The creation of Actor/Comedian David Epley, Doktor Kaboom! creatively blends theater arts with the wonders of scientific exploration. Join him for a comedic journey of increasingly spectacular, and often successful, experiments and demonstrations. Recommended for ages 4 & up. Show times at 1 & 3pm. $17/Person. 201-227-1030
Snowed In! (Westfield, NJ)
In early America, seasons were timed to changes in the weather, the phases of the moon and the way crops grew. Each season meant different activities for the farm household. Even in the most severe weather, there were tasks to be taken care of. The Miller Cory House Museum's program provides a glimpse of an early American farm family's busy routine even when "snowed in." Included are demonstrations of colonial-era winter chores, storytelling and a children's craft. Light refreshments will be served. 2-4pm.  $3/Adults ages 13 & up, $2/Children ages 3-12, Children under 2 are free.
The Sky Above: A Sensory-Friendly Show (Branchburg, NJ)
The Sky Above is a delightful planetarium show for families with children on the Autism Spectrum or with other developmental disabilities. All are welcome to learn about astronomy in a non-judgmental environment. The doors will remain open so that children will be able to come and go.  Lights will be left dim and audio will be lowered and at a consistent level. The sky show will include: music, videos, planets, the Moon, constellations and laser lights. Recommended for ages 6 to 10. 4:30pm. $5/Person. 908-725-3420
Don't forget: We have additional activity listings in our Event Calendar. And if you are heading into NYC for the weekend make sure you visit the New York City Mommy Poppins events calendar to get the latest on all the fun to be had NYC-style.
Planning an event? Submit it to our calendar.
Did someone forward you this email? Subscribe to our free newsletter.
Tags: