Mostly Free & Fun Things To Do With NJ Kids This Weekend Dec 29-30: New Year's Craft, The Sound of Music, Hot Cocoa Hike & More!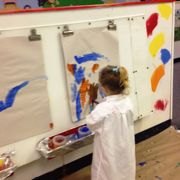 The gifts have been opened and Santa's come and gone, but if you're looking to close out the holiday season with one more festive weekend, there's still time to check out Storybook Land's Christmas Fantasy in Lights and the Nutcracker 3D Planetarium Show. Ready to ring in 2013? Drop by Imagine That to make New Year's craft or take a Pre First Day hike at the Cheesequake Nature Center. Read on for our top picks and you can find a listing of all NJ activities in our Event Calendar.
All Weekend
Laser Nutcracker 3D Planetarium Show (Trenton, NJ)
So you've seen the classic Christmas ballet and maybe even can hum most of the beautiful music by heart – but how about watching the Nutcracker in a whole new way? Check out the Laser Nutcracker Planetarium show at the NJ State Museum this weekend. In addition to classical music from Tchaikovsky's beloved ballet, the program features dazzling visuals, full dome digital effects, and 3D glasses! The show also features a live demonstration of the sky set to December 25, 1776. Learn about the constellations and planets that occupied the sky on the stormy evening when George Washington crossed the Delaware. Recommended for ages 5 & up.  Saturday & Sunday at 1pm. $7/Adult, $5/Children 12 & under. Please visit the NJ State Museum's website to book your tickets.
Christmas Fantasy with Lights (Egg Harbor Township, NJ)
If you've got out of town guests lingering or just want one last dose of Christmas spirit, catch the final weekend of holiday festivities at Storybook Land. Stroll through the grounds and marvel at over one million Christmas lights in their magical winter wonderland. The kids will be in awe of huge nutcrackers, a lighthouse, reindeer and even palm trees twinkling around them. Warm up with hot chocolate from the snack bar before heading home. Saturday & Sunday 4:30-9pm. $22.95/Person, Children under 2 are free. 609-641-7847
The Sound of Music (Millburn, NJ)
Close out the holiday season with a performance of Paper Mill Playhouse's The Sound of Music. One of the most beloved and inspirational stories of all time, this tale of love and courage is Rodgers and Hammerstein's final triumphant collaboration. Based on the true story of the von Trapp family, this musical masterpiece has become a beacon of hope and joy for generations. You'll revel in the familiar sounds of iconic melodies like "My Favorite Things" and "Edelweiss,"  Recommended for ages 5 & up. Show times Friday at 7pm, Saturday & Sunday at 1:30 and 7pm. Ticket prices vary ($34-89) depending on seat location. 973-376-4343
Imagine That! New Year's Craft (Florham Park, NJ)
Fill up an otherwise lazy late December day with a trip to Imagine That! Children's Museum in Florham Park. The craft this weekend will get kids excited to ring in 2013 when they create and decorate a special New Year's card. After craft time, stick around and enjoy the museum: climb in a fire truck or airplane, play make believe in a grocery store, veterinary office or dance studio or play musical instruments from around the world. Saturday & Sunday 10am-5:30pm. FREE with admission. 973-966-8000
Saturday, December 29th
USS Constitution Family Celebration (Princeton, NJ)
The kids are on winter break but that doesn't mean you can't throw in an educational outing. The Historical Society of Princeton will make learning fun by hosting a USS Constitution Family Celebration this Saturday at the Bainbridge House. Two hundred years ago today, William Bainbridge led his crew in a fierce battle and triumphed. Learn the story of "Old Ironsides" and her heroic captain, and let the gang create their own tri-corner hat! 11am. $5/Child (One free adult with each child), $4/Child if members of the HSP. (609) 921-6748 x102
Hot Chocolate Hike (Roseland, NJ)
The holidays may be behind us but we still have a couple months left to keep busy in the cold weather. Enjoy a peaceful winter hike around the Essex County Environmental Center this weekend with the whole family (even little ones can bundle up and enjoy the scenery from a baby carrier or in mom or dad's arms!) After taking in the winter landscape and getting some fresh air and exercise, everyone will huddle around a campfire for hot cocoa and roasted marshmallows. Yum! 12pm. $6/Child, $8/Adult. Advance registration required. 973-228-8776
Newark Museum Holiday Fun Days (Newark, NJ)
After being cooped up inside from the dreary weather (or sitting in an airplane or car for holiday travel) let the kids just be kids this Friday and Saturday at the Newark Museum's Holiday Fun Days. Feeling artsy? Make your own musical instrument or create your own original work of art. Science more your thing? Break up rocks and play geologist for the day. Budding chefs can even take a cooking lesson! Friday & Saturday 12:30-4pm. FREE with museum admission. 973-596-6550
Full Moon Hike (Cranbury, NJ)
Grab your coats and scarves and head to the Plainsboro Preserve for this fun full moon hike with the whole family. Your group will learn about the fascinating rhythm of the moon cycle. Our ancestors followed astronomy carefully, and naturalists will discuss some of these traditions before heading out to see the moon rise and go for a hike. This program is recommended for ages 6 & up –and mom & dad might even learn a thing or two! 4:30-6pm. $3/Members, $5/Non-members.
Battle of Trenton Marionette Show (Trenton, NJ)
Celebrate 'Patriot Week' at the Patriots Theater with the Battle of Trenton Marionette Show. A "mini" historical look at an amazing piece of American history presented with marionettes & rod puppets (and lots of help from the audience).  Show includes live music, colorful puppets & props, and plenty of "revolting" action, courtesy of Tucker's Tales Puppet Theatre. Fun for the whole family - even the preschool set will be entertained. 12:30pm. FREE. 609-777-1770
Sunday, December 30th
Pre First Day Hike (Matawan, NJ)
If you've got some nature lovers in your family and don't mind a little cold weather, head to the Cheesequake State Park Nature Center for their end of 2012 hike. Your park naturalist will interpret the winter sights and sounds during this one-hour hike, answering questions about seasonal flora and fauna along the Cheesequake trails. Please note hike will be at a brisk pace and is recommended for ages 12 & up. 1pm. FREE. 732-566-3208
Don't forget: We have additional activity listings in our Event Calendar. And if you are heading into NYC for the weekend make sure you visit the New York City Mommy Poppins events calendar to get the latest on all the fun to be had NYC-style.
Planning an event? Submit it to our calendar.
Did someone forward you this email? Subscribe to our free newsletter.
Tags: