Mostly Free & Fun Things To Do With NJ Kids This Weekend Dec 1-2: Scrooge! The Musical, Brunch with Santa, Dog Sled Demo & More!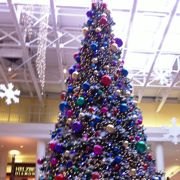 Ho, ho, ho! Both December and some chilly weather are coming and there's no shortage of events to get you in the holiday mood. Check out Scrooge! The Musical, or have brunch with Santa at the Camden Children's Garden. For a change of pace from the holiday whirlwind, try a Winter Hike at the Watershed Reserve or stop by Family Day at the Montclair Art Museum. Read on for our top picks and remember you can find a listing of all NJ activities in our Event Calendar.
All Weekend
Scrooge! The Musical (Manasquan, NJ)
Join the famous miser, Ebenezer Scrooge, on his magical journey of redemption as ghosts from the past, present and future visit him on Christmas Eve. Based on Charles Dickens' classic "A Christmas Carol," this big Broadway-style musical warms the hearts of the entire family with bright tunes and a colorful cast of familiar characters. This will be the 10th production of "Scrooge! The Musical" by the members of Shore Repertory Theatre Company after delighting audiences with the show each year from 2002-2010 in Ocean County venues including The Strand Theatre in Lakewood.  Recommended for ages 4 & up. Saturday at 2 & 8pm, Sunday at 3pm. Ticket prices vary ($18-33) depending on seat location. 732-528-9211
Gingerbread Wonderland (Morristown, NJ)
This December marks the 21st Annual Gingerbread Wonderland Exhibit where guests young and old can marvel at the creativity, skill and sense of optimism that characterizes this charming exhibit of over 200 edible structures. Past years' gingerbreads have included models of Notre Dame cathedral, Hanukkah menorahs, Japanese temples, Chinese pagodas, European castles and neighborhood sweet shops. Saturday & Sunday 10am-5pm. Suggested donation $2/Adult $1/Child. Reservations required for groups of 10 or more. 973-326-7601
Saturday, December 1st
Family Winter Hike (Pennington, NJ)
Between the heavy meals and the many hours spent sitting a car or or airplane to visit relatives, how about some fresh air and exercise? Lace up your sneakers, put on your coat and kick off December with a morning hike at the Watershed Reserve trails. A Naturalist will guide your group along the trail, answering questions about winter foliage and wildlife. Enjoy a mug of hot cider or hot chocolate to take the chill off afterwards. 9-11am. FREE. 609-737-3735
Breakfast on the Battleship (Camden, NJ)
Enjoy a delicious hot breakfast served "chowline-style" at the crew's galley aboard the awesome battleship, experience a self-guided tour, win some great prizes and meet Santa Claus! Older kids will marvel at the ship's weapon systems and communications room as they imagine what life is like aboard the navel giant. The Camden waterfront is full of family-friendly weekend activities, so if your gang is still raring to go after breakfast and the tour, check out the nearby Children's Garden and Adventure Aquarium. 9-11am. $20/Adult $16/Kids ages 13 and under. Please call 1-866-877-6262 ext. 107 to purchase tickets in advance.
Brunch with Santa (Camden, NJ)
Take the kids to meet jolly old Saint Nick at the beautiful Children's Garden in Camden. Start your day with a hearty brunch and be sure and bring the camera as Santa makes his rounds to wish each and every child a Merry Christmas. After your brunch, make a day of it and head inside the gardens. Popular exhibits include the Butterfly Tent, the Red Oak Run and Tree house and the Dinosaur Garden (which is decked out in lights during the Holiday Festival).  Two brunch seatings at 11am & 12pm. $12/Adult $10/Child, Admission to Children's Garden $4/Person with brunch reservation. Please call 856-365-8733 to reserve your family's spot in advance.
Family Day at Montclair Museum (Montclair, NJ)
Enhance your creative skills and join the Montclair Art Museum community for a fun-filled day. Participate in an afternoon of exploration with some fun and engaging art activities. Enjoy art projects inspired by two outstanding artists, Georgia O'Keeffe and Saya Woolfalk. And bring a metal spoon to donate Jean Shin's 2013 New Directions project for a free cup of hot cocoa! Jean Shin is an acclaimed contemporary artist who creates sculptures and installations using materials gathered from the community in which she works. Kids will love that they helped to create a new work of contemporary art! 1-5pm. FREE. 973-259-5137
The Lion and the Mouse Puppet Show (Hazlet, NJ)
Can a tortoise win a tug-of-war with a mighty elephant? Can a tiny mouse help an enormous lion? To find out, join the award-winning Crabgrass Puppet Theater as they present tales from Africa, Asia, and Europe that prove even the small and weak can have a big impact on the world! All ages are welcome and are sure to enjoy this puppet-and-actor experience. Children under 5 must be accompanied by an adult. Stop by the Hazlet Township Public Library to pick up your tickets. 3pm. FREE.
Sunday, December 2nd
Menorah and Tree Lighting (Mountainside, NJ)
Indulge your inner artist while getting into the Christmas and Hanukkah spirit at the Trailside Nature and Science Center this Sunday afternoon. Start off the day by browsing crafts made from all natural materials including wreaths and centerpieces, knitted goods, pottery and candles. Then really get into the holiday spirit by meeting Santa & Mrs. Claus, listening to holiday singers and taking in the beautifully lit Christmas trees and Menorahs. Younger kids will also love the coloring craft table and face painting. 11am-5pm. FREE admission. 908-789-3670
Frost Fest & Dog Sled Demonstration (Basking Ridge, NJ)
Celebrate winter at the Environmental Education Center in Basking Ridge and discover a world of fun indoors and out! Visit the indoor winter wonderland of educational habitat exhibits and then warm up with cookies and hot cocoa in the Snowflake Café. Other fun activities include reindeer games, candle making, owl prowl and more. The New Jersey Sled Dog Club will be doing a demonstration this Sunday only – both kids and adults alike will love learning about this winter sport and meeting the friendly canines.  2:30-4pm. Suggested donation $4/Person.
The Velveteen Rabbit (New Brunswick, NJ)
The Velveteen Rabbit is a timeless story that both gradeschoolers and preteens will enjoy, making it a great family outing for the whole family. With an original musical score, life-sized puppets, masks and magic, Enchantment Theater Company brings to life this charming tale of love and devotion, creating a magical holiday experience. Recommended for ages 4 & up. 1pm. Ticket prices vary ($15-30) depending on seat location. 732-246-7469
Don't forget: We have additional activity listings in our Event Calendar. And if you are heading into NYC for the weekend make sure you visit the New York City Mommy Poppins events calendar to get the latest on all the fun to be had NYC-style.
Planning an event? Submit it to our calendar.
Did someone forward you this email? Subscribe to our free newsletter.
Tags: