May GO List: The Best Things To Do With NJ Kids This Month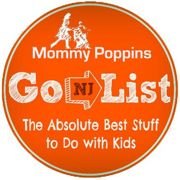 May is just bursting with stuff to do with the family, be it Cinco de Mayo fun, Mother's Day events and the kazillion fairs and festivals that start going full force in May. But of course, we have our favorites and we like to let you in on them--for instance, Kite Day at one of our favorite NJ venues, an arbor day celebration, a family fun day, and an opportunity to serve our fair state at the 16th annual Jersey Cares Day. Have a great May, NJ!
Kite Day at Terhune Orchards (Princeton, NJ)
Terhune Orchard is a very special place and to imagine it full of kites--well, that just sounds magical to us. Bring your own kite, purchase one in the shop, or make a "guaranteed to fly" version. There will be live music, tons of food to purchase and the sheep will be shorn on Sunday so children can take a piece of fleece home. Saturday, May 3 and Sunday, May 4 from 10am to 5pm. Free. 609-924-2310.
Jersey Cares Day 2014 (various locations)
The 16th Annual Jersey Cares Day Jersey Cares Day is a day of true partnership and community building as 2,500 volunteers from all over New Jersey unite for the common goal of revitalizing and beautifying communities. Projects include beach sweeps along the Jersey Shore, sorting donated items, trailblazing in public parks, and so much more. Admission is free, but a $5 donation is appreciated.
Hoboken Spring Arts and Music Festival (Hoboken, NJ)
Celebrating their 20th anniversary, this annual celebration of spring features more than 300 artists, crafters, local businesses, restaurants, food vendors and much more. Three stages will present live music including Southside Johnny and the Asbury Jukes, Frankie Morales and the Mambo of the Times Orchestra, the Black Hollies and more. Stages will be setup on Observer Highway, 3rd Street (which will be the children's area) and 7th Street. Kids will enjoy rides, games, face painting, sand art, balloons, music and more. This event will be held rain or shine and admission is free.
Ar-B-Que to Celebrate Arbor Day (Short Hills, NJ)
The utterly charming Cora Hartshorn Arboretum, founded in 1923, is celebrating Arbor Day with its annual "Ar-B-Que" on Saturday, May 3 from 11am to 2pm. Come and have a day of fun while you help support an organization that provides local environmental education in a fairy tale style "Stone House", 16 acres of wooded trails with an outdoor classroom, live animal exhibit and a wonderful staff of experienced teachers. Many events are free, such as face painting, scavenger hunts, bee presentation by Hilltop Honey and cupcake decorating, but tickets are required for the Famous Dave's Barbeque, and the raptor presentation by Bill Streeter, director of the Delaware Valley Raptor Center for Close Encounters With Birds of Prey. All-inclusive tickets are $20 for adults, $10 for kids age 3 and up, free for kids under age 2, individual events are $10 each. 973-376-3587.
30th Annual Family Fun Day at Lord Stirling Park (Basking Ridge, NJ)
Games on horseback, free pony rides and hayrides make horses accessible to everyone; local vendors offer their specialties for sale; and child-friendly arcade games ensure that everyone is a winner. Food and beverages will be available for purchase, so bring the kids, bring your appetite, and enjoy a day on the farm. Sunday, May 4 from 8am to 4pm. Free.
Youth Orchestras of Essex County at SOPAC (South Orange, NJ)
he Youth Orchestras of Essex County, the longest-operating youth orchestra in New Jersey, holds its annual spring concert at South Orange Performing Arts Center. Talented young musicians aged 8 – 18 from all over the area play beautiful music in this diverse group. In addition, 10 year old South Orange student Hank Mecinski perform a violin solo. He won this spot through a competition held earlier this year by audition within YOEC musicians. Sunday, May 18 at 4pm.
Mayfest at Historic Smithville (Smithville, NJ)
The annual Mayfest adds more than a hundred juried crafters, music, an international food court and kids' activities to the already picturesque village, shops, carousel, train rides and paddleboats of Historic Smithville. Saturday, May 17 and Sunday, May 18 from 10am to 6pm. Free.
Tags: