"Listen To Your Mother": Auditions for Moms, Dads and anyone who has a story to tell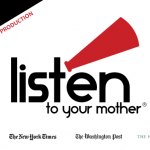 As editor of New Jersey Mommy Poppins, I'm very excited to tell you about something a little different today: I will be assistant-directing the second annual production of "Listen To Your Mother" in NYC! We are looking for tri-state area writers, performers and storytellers to audition for this very special show that will take place on Mother's Day, May 12 at Symphony Space in Manhattan. But what in the world is "Listen To Your Mother"? Read on for all the fantastic details!
In its fourth year of production, "Listen To Your Mother" is a national series of live readings by local writers in celebration of Mother's Day. Created in 2010 by the wonderful humorist Ann Imig, "Listen To Your Mother" played in one city, Madison, Wisconsin and was so celebrated that by 2013 this national phenomenon has spread to 22 cities across the United States and has been lauded in The New York Times, The Huffington Post and The Washington Post.
Each production is directed, performed and produced by local communities, for local communities, and creator Imig says "regular, everyday people with a story to tell make up the heart of 'Listen To Your Mother'. You don't need to call yourself a writer. You don't need any performing experience. You just need to share the story in your heart or on your mind."
Auditions will be held by appointment only on Saturday, February 23 from 12pm to 5pm, Monday, February 25 from 6pm to 9pm and Tuesday, February 26 from 10am to 2pm. People of all ages, types, backgrounds and experience-levels are invited to audition. For more details on auditions and to get a feel for the sorts of stories we're looking for, go here. If you're intrigued and want to see an example of past stories, watch the archives of last year's production here. But if you're completely gung-ho and ready to audition, simply send an email to listentoyourmothernyc@gmail.com with your availability for the above dates/times.
And whatever you do... Listen To Your Mother, won't you?