Last-Minute Halloween Costumes for Kids and their Last-Minute Parents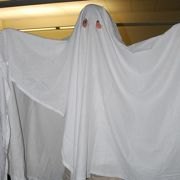 Did you wait too long to order your child's Halloween Costume? Did you get the wrong size costume and need a quick and easy back up plan? Has your child changed his or her mind about their dream costume numerous times? Do you just want a funny and simple costume that will get a laugh?  Here are 10 quick and down'n'dirty ideas followed by costume suggestions crowd-sourced from your very own MP NJ writers.
1. "Honey Boo Boo"  Old recital costume, teased hair with an attitude and a bag of Cheese Balls.
2. "Call Me Maybe" Wear a trendy outfit and find an old telephone receiver with the cord and carry it around.
3. "Katniss from Hunger Games" Nerf bow and arrow set, hiking clothes, smear on some dirt, instruct your child to look hungry and scared.
4. "Olympic Gymnast" Track suit and an old gold medal from a recreation sport.
5. "Steve Jobs" Black turtle neck , jeans, glasses and carry around an empty iPad case or make your own faux iPad Mini out of cardboard.
6. "Brawny Man" Construction worker boots, jeans, flannel shirt, carry around a roll of paper towels.
7. "Mommy Kangaroo and Joey" Baby bjorn, Baby doll, brown clothes, cardboard and an old headband for ears.
8. "'Up' House Costume" Cardboard box colored with crayons and cut to look like a house and a dozen helium balloons in assorted rainbow colors
9. "Little Red Riding Hood" Make a red cape out of fabric, find a basket and fill with baked goods. Sew a stuffed animal Wolf on the shoulder of the cape.
10. "Footie Pajamas Animals" Take any footie pajamas you may already have and a head band and make your own bunny, pig, kitty, etc.
NJ Mommy Poppins approved last-minute costumes:
From Rachel:
A devil in a blue dress (Like the song...all you need are cheap devil ears from CVS and, well, a blue dress).

A crossing guard-  wear a yellow raincoat, a whistle, and carry a homemade sign that says "STOP "on one side, and "GO" on the other.
From Shari:
A dinner table. Seriously, I cut a hole in a piece of cardboard and a hole in a tablecloth, put my head through them (with plastic flowers like I was a centerpiece), and glued plastic place settings to the whole thing.
From Sasha:
Ghosts. Okay, I'm definitely not the most creative mom in terms of clothing and costumes, but I remember taking old white bed sheets with my best bud Laurie in 3rd grade and cutting out eye and mouth holes and going trick or treating as ghosts. That's probably as basic as it gets, but we had fun and loved that no one knew who we were (until we started talking, of course).
From Laura:
Gilligan and Skipper-Last year we went really simple for the boys: Gilligan and Skipper. We only had to purchase a captain's hat ($5) and a sailor's hat ($5). We pulled a blue polo and a red polo out of their dresser and that was that.

Farmer- Last year my nephew was a farmer. He wore overalls with a plaid shirt and a handkerchief around his neck. Add a hat if you want to get fancy.

Strawberry- My niece is dressing as a strawberry this year. She's wearing red tights with a red t-shirt and a red winter hat and
cutting green pieces of felt and attaching them to top of the hat. Super easy.

Fred and Barney-This year I am making the boys costumes and spent $8 on felt and velcro at JoAnn's. So easy and takes about five minutes to cut the shapes out.

Mini Golfer- One of our friends is doing a mini-golfer. She's using pair of shorts, knee high socks, a sweater vest and a golf club.
What are your best last-minute costume ideas? We know there are more slacker, sorry, "last-minute" parents out there!
photo credit: juan.barredo via photopin cc