Hanukkah Decorations and Sweets for NJ Families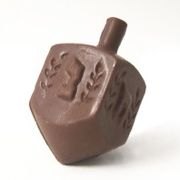 This year, Hanukkah begins on the evening of Saturday, December 8, and ends on the evening of Sunday, December 16. Hanukkah is one of my favorite holidays because it encourages family, love, home and miracles. I grew up with parents who loved decorating our home with Hanukkah Tchotchkes (yiddish for "trinkets!") while the scent of potato pancakes lingered in the background. Yum! Below is a list of whimsical Hanukkah goodies that are fun and festive for every family member. 
I spotted some really cute Hanukkah ornaments on zazzle.com and even at The Home Depot (online only). My family never really put them on a tree; we hung them off the hooks on our banister and fireplace to make our home more festive. However, if you do have a tree, hang 'em, display 'em, and then save 'em for next Hanukkah! They make wonderful family heirlooms.
I do love a beautiful menorah. The one my husband and I cherish the most is a handmade menorah from Costa Rica we received for our wedding. This portable menorah available from CBL Fine Art in West Orange caught my eye. It's adorable, colorful, and has the right touch of personality for the holiday--there's a favorite color for every family member. 
The many 'kinder' in my family get pretty competitive with each other. But a little healthy competition is good, right? And nothing beats a rousing board game. These Judaic-themed family games, such as Dominoes, make fabulous gifts. I personally love the Taboo game, but you can also find Apples to Apples, the Junior version, and even Hebrew Monopoly and Kosherland
In Hebrew School as a kid, my teacher used to make us watch Shalom Sesame, the Israeli version of Sesame Street. I was floored--Sesame Street was available in other languages?! The Hebrew version--which combines both Hebrew and English--completely grew on me, and I found it as enjoyable as its American counterpart. Today, you can purchase the DVD versions of Shalom Sesame and watch free segments online. This Website also has printable Hanukkah-themed coloring pages. 
Hanukkah celebrates miracles, helping others and heroism. Encourage your children to donate money and goods to needy families around the world. In Hebrew, this act of charity is called "tzedakah," and I loved this colorful Tzedakah box.  Children can also easily make their own as well. It's wonderful to donate to a charity as a family, especially during this time of year. 
As a kid, I remember sewing a Hanukkah dress for my Barbie doll, and no, it wasn't very good. But have no fear, I found someone on etsy.com who sells Hanukkah dresses for dolls--and they're much cuter than the one I attempted to make in the early 80's!
Dreidels are spinning tops that celebrate Hanukkah miracles outlined in the Bible. I found these dreidels and thought they were just stunning.
And, of course, no Hanukkah would be complete without chocolate gelt and how cute is this fabric baggie from Crate and Barrel? As for additional sweet holiday treats, they sell shortbread cookies, pretzels, candy canes and more! It's such a shame ALL my teeth are sweet teeth. (I'm going to pretend I didn't notice that Dylan's Candy Bar sells Hanukkah-themed Oreos...)
And lastly, I found this adorable Hanukkah stocking at Bed, Bath, and Beyond, which also carries stunning menorahs and other Hanukkah gifts. Enjoy the holiday season!