Halloween Fun at a New Jersey Zoo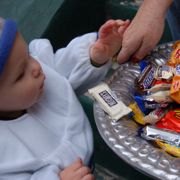 Yes, it's the spookiest month of the year--and October is also chock-full of fun family activities all over our great state!  Forget that door-to-door treat-trolling and try something different this year: take your family to an NJ zoo. It's always an enjoyable way to spend a family day, but add some candy, costumes and fun activities and your little NJ ghouls will be having a blast in no time! And don't forget to check out our Halloween Activities Guide.
The Turtle Back Zoo, West Orange, NJ
Turtle Back Zoo is hosting two Halloween related events this year. Spooky Zoo is on Saturday, October 24 and 25th from 6pm – 9pm. Grab a free pumpkin and head to the carving station, watch magicians conjure up ghosts and goblins, check out the animal presentations and more! Celebrate Halloween on Friday, October 31 from 4pm – 9pm with the Turtle Back Zoo! Make sure the kiddies are in costume and come on down for "safe trick-or-treating," rides on the "spooky train" and more. 973-731-5800
Cape May County Zoo, Cape May Court House, NJ 
Join in the spooky fun at the Cape May County Zoo for Boo at the Zoo! The event takes place on Saturday, October 18 from 10am – 2pm. Get the kids into costumes and get ready for games, crafts, stiltwalkers, magicians, animals, candy and a live Creepy Creatures Show. The Kid's Costume Dance Contest begins at 11am (registration opens at 10am). Starting at noon, check out the Carnival Creature Freak Show. Zoo admission is free all the time! 609-465-1033
Space Farms Zoo (Wantage, NJ)
Saturdays until Halloween, this is a nice low-key Halloween-y event at the very unusual and wonderful Space Farms Zoo. Every child in a costume (accompanied by an adult) will be admitted free, given a goodie bag, and can compete in a costume contest at 2pm. For more info, call 973-875-5800.
Cohanzick Zoo (Bridgeton, NJ)
Come for a little Boo at the Zoo at NJ's very first zoo. Treat, face painting, costumes and more. Saturday, October 18 from 11am to 2pm. For more info, call 856-453-1658.
If you are in NYC:
Bronx Zoo, Bronx, NY
Boo at the Zoo is a Halloween tradition at the Bronx Zoo. Every weekend from now until Halloween, celebrate the spookiest month of the year with creepy crawling animals and reptiles, hay rides, a haunted mansion, live music, magic, a hay maze, pumpkin carving, children's theater and tons more! There are treat stations set up all over the park to satisfy your sweet tooth. Zoo hours are Monday – Friday 10am – 5pm and 10am – 5:30pm on weekends and holidays. 718-367-1010