Great Recipes for Cold Winter Nights: Soups, Casseroles and Entrees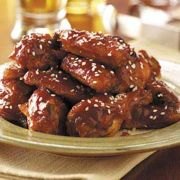 It's time to hunker down with calories. Oh sure, some of us might be slipping into a bathing suit over spring break, but that's ages from now. We need comfort! I'm offering up a mix of slow cooker magic and recipes that require a little more attention, but are worth it for a day of cooking while the kiddies play in the snow. Dig in friends, because soon I'll be swooning over ramps and chanterelles! And check out last year's hunkering-down recipes as well.
Slow Cooker Sweet 'n' Tangy Wings
These might be more appetizer than entrée, but I have no problem eating — or serving — wings for dinner, and this sweet recipe from Taste of Home, may even entice the kids to try them. Obviously, they are also perfect for the Super Bowl party you are dying to throw.
Bulgur Chili
My husband doesn't like this, but I do. It's very wholesome and has lots of wonderful vegetables, and bulgur is a high-protein super-food. Plus, there's cheese to make up for all the goodness. It's filling and warming, and makes a lot, so you can freeze it for another night when you want to pat yourself on the back. From Mark Bittman, the legend.
Slow-Cooked Cannellini Beans and Sausages
The response in my household to this dish was, very happily, 'this tastes like franks and beans,' which begs the question, why bother cooking from scratch at all… However, it's simple to make, and it has great 'real food' flavor. The slow cooker has never met a sausage it didn't like, and it's very satisfying to cook beans into submission. Just don't forget to soak them the night before. This is a great one for kids if they don't mind their food touching. From Williams-Sonoma, purveyors of all things tasteful.
Bo Ssam
This may seem a bit complicated — it's really the sauces that get tricky, but even if you have to substitute a few ingredients the pork will make up for everything, and it's not complicated at all. It just takes a little planning. The final product is tender and intensely flavorful. Plus, your kids will like it because they can make lettuce tacos, and who doesn't love taco night. This recipe is from Chef wunderkind David Chang and here's a bit more about the allure of Bo Ssam.
Vegetarian Cashew Chili
According to my sister, there was a time when my mother made a chili like this. I have no recollection and can only assume it was in her hippie years, before we started eating pasta and American cheese for dinner. Ahem. This is a super veggie, tangy, crunchy (thanks cashews) bowl of chili. It's part mythology this recipe, and floats around the web in random parts, so here is the full version:
1-1/2 cups chopped onion
2 - green Peppers, seeded, chopped
3 - celery Stalks, chopped
4 - cloves of garlic, minced
2 - Tbs. Oil
2 – 28 oz cans tomatoes
1 – 14 oz kidney beans
1 – 14 oz brown beans
2 - cups sliced fresh mushrooms
1-1/2 - cups water
1/2 - cup raisins
1/4 - cup vinegar
1 - bay leaf
1 - Tbs. chili powder
1 – Tbs. parsley
1-1/2 - Tbs. basil
1-1/2 - Tbs. oregano
1/2 – Tbs. ground pepper
1/4 – Tbs. (1ml) Tobasco
1 - Cup (250ml) cashews (optional)
Grated cheddar cheese
Sour Cream
Saute onion, green peppers, celery and garlic in oil until tender. Add tomatoes and beans with liquid, along with remaining ingredients, except cashews, cheese and sour cream. Cover and simmer for 1 hour. Uncover and simmer for another hour. If using cashews, add at the end. Serve with grated cheese and a dollop of sour cream. Serves 8-10.
Spicy Kale and Sweet Potato Gratin
I changed this one a bit when I made it for Thanksgiving and it was the hit of the night. Instead of swiss chard, I used frozen kale (though you could certainly use fresh), sautéed with garlic, a pinch of chili flake, salt, pepper, butter and olive oil. I also added several generous scoops of chipotle pepper puree to the sauce, incorporating it at the end. It was cozy in that great casserole way, but also had lovely heat and grown-up flavors. It was delicious with the turkey and fixins, but would be just as good on its own with a nice green salad. From Smitten Kitchen.  
French Onion Soup
A great steak and this soup on a chilly Sunday night, with some skinny French fries —that's heaven on a plate. This simple French onion soup elevates any meal, and it reminds me of going to nice restaurants with my dad as a kid, when I would always order the French onion soup, because it seemed fancy and I loved the cheese. Don't skimp on the cheese. Get a great gruyère. I sometimes use beef stock instead of chicken, because I like the richness it brings to the bowl. Bon appétit! From Martha Stewart.