Great Holiday Cookie Recipes Made With Chocolate and Cheer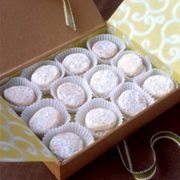 My 6th Annual Cookie Exchange party is coming up, and if I can manage to finish decorating the house, it should be its usual joyful, twinkly self. Good friends and kids making cookies and cheer and messes, and me being so happy for the love, the friendships and the baked goods. Here are six of my new favorites and check out last year's article for even more buttery goodness. Happy Holidays!
Chewy Oatmeal-Raisin Cookies with Chocolate
Some people only like their chocolate chip cookies with chocolate chips. Some people don't like raisins. Or oatmeal. Some people like all of it. I'm that some person. I like the chewy chocolateness, plus the oatmeal makes me feel wholesome. These crowded little lovelies are from my life coach (in my mind) Catherine Newman.
Ginger Chocolate Chip Bars and Chocolate Gingerbread Bars
These are two variations on a theme — a brownie like texture with ginger-y, chocolate goodness. I particularly love the bites of chocolate in the ginger bars, and the dense molasses quality of the gingerbread bars (just make sure you take them out around 27 minutes, instead of 30). You can make both and package them together with a pretty ribbon. Perfect for the cookie exchanger that doesn't want to make 7800 cookies. From Real Simple and Martha Stewart.
Chocolate Chocolate Chip Cookies
I recently made this Hershey's recipe for a bake sale and they were a big hit. I sprinkled a bit of peppermint morsels on top of some, and did a mix of white and milk chocolate chips in the cookie, skipping the nuts. They are a rich, classic, cookie — moist and delicious, and very pretty stacked in a slender cello bag, with a peppermint striped ribbon.
These beauties are quite heavenly. All that melt in your mouth powered sugar and tart lime. I love citrus at Christmas and these are a wonderful burst of energy. Plus, the kids can help toss them in the sugar. From Queen Martha, who suggests packaging them stacked in cupcake wrappers, in a box perfectly secured with green ribbon. That's a present you can't say no to.
Ginger and Almond Chocolate Clusters
These tasty morsels, from Clotilde over at Chocolate & Zucchini, are my go to entertaining treat. They take 5 minutes and you don't have to turn on the oven. The fragrant ginger bursts and the tangy dark chocolate have a lovely sophisticated flavor, and they go nicely with cocktail fare like cheeses, and, well, the spirits of the season. Very pretty stacked in a colorful plate for noshing while the kid's decorate gingerbread cookies.
Don't forget to check out last year's article for even more delicious recipes.