Fun Fall Harvest Festivals for NJ Families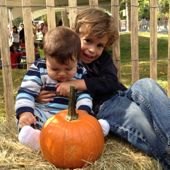 Here comes Fall! As much as I love summer, I find myself looking forward to this season's arrival more and more every year. The cooler weather, crunching of leaves underfoot and pumpkin-flavored everything are all highlights of the season. And let's not forget Halloween! New Jersey has many wonderful fairs and festivals for your family to enjoy this autumn—grab the kids (and a jacket) and check out these great fall events coming to a town near you.
New Jersey Botanical Garden Harvest Fest (Ringwood)
Oct 4 & 5, 10am-5pm
Visit the Botanical Garden for a fun and relaxing day in beautiful surroundings. The Festival features hayrides, face painting, pumpkin painting, storytelling and yummy food. Families can also tour the Botanical Garden, visit the autumn plant sale and peruse handmade crafts from local vendors. FREE Admission.
Whippany Railway Museum Pumpkin Festival (Whippany)
Oct 5, 12:30-5:30pm
Enjoy a 30-minute excursion along the Whippanong Trail on the "Pumpkinliner" antique caboose train. Before or after your trip, visit the Pumpkin Marketplace Crafts Fair to check out local wares, railroad memorabilia and of course plenty of pumpkins. Walk around the museum grounds to enjoy the seasonal decorations and pose for pictures by the Haunted House. Train tickets can be purchased in advance online and any remaining tickets will be sold on operating day. Fares are $14 for adults, $9 for children under 12 and free for infants under 1.
South Jersey Pumpkin Show (Woodstown)
Oct 10-12 (Fri 5-10pm, Sat 10am-8pm, Sun 10am-5pm)
This is the perfect event for any pumpkin fans in the family. Cheer on the competitors in the Little Miss & Mister Pumpkin Show Pageant, sample scrumptious treats at the Pumpkin Dessert Contest and check out the Giant Pumpkin Pyramid. Other activities include a decorated stroller parade, kids' costume contest, Boo Barn and fall crafts for kids. FREE Admission. Parking is $6 per car.
Hometown Harvest Fair (Hightstown)
Oct 11, 10am-4pm
Celebrate the 12th anniversary of this Hightstown festival featuring arts & crafts, delicious food and live entertainment all day long. A special Children's Area offers pony rides, a petting zoo, bouncy houses and performances just for kids. And don't miss the chili-tasting contest, Fun Bus and Ducky Derby race! FREE Admission.
Allentown Fall Festival (Allentown)
Oct 11 & 12, 10am-5pm
Allentown's annual festival takes place along Main Street in this charming village. Highlights include local artisans, crafters and food vendors, as well as live music and dance performances. Stop by the classic car show, check out the Civil War reenactment and bring the kiddies to visit the petting zoo. FREE Admission.
Pumpkin Festival (Cape May)
Oct 18, 10am-4:30pm
Head to historic Cold Spring Village for this wonderful Jersey Shore celebration. With food, games, hayrides and pumpkin painting, there's something here for everyone in the family to enjoy. Visit the Haunted Barn and watch the Halloween parade starting at noon. FREE Admission.
Chatsworth Cranberry Festival (Chatsworth)
Oct 18 & 19, 9am-4pm
Did you know New Jersey's cranberry harvest is the third largest in the U.S.? Celebrate all things cranberry at this festival featuring local specialties, over 150 arts & crafts vendors, live music, antique cars and wolves from nearby Howling Woods Farm. Breakfast will also be served each morning from 6-11am at the Chatsworth Volunteer Firehouse. FREE Admission. $5 donation to park in the designated parking area.
Goblins in the Garden Family Festival (Camden)
Oct 25 & 26, 1-4pm
Calling all ghosts and goblins! Break out the costumes and join in the Halloween festivities at The Camden Children's Garden. Hop aboard a Haunted Train Ride, hear your fortune told and trick or treat along the Costume Parade route. Visit the Creepy concession stand for special Halloween treats. Admission is $6 per person, free for kids 2 & under. Children dressed in Halloween costumes receive a free ride ticket.
Hoboken Family Oktoberfest (Hoboken)
Plan on celebrating with family and friends as Saints Peter and Paul teams up with Hoboken Catholic Academy for Hoboken Family Oktoberfest on September 26 and 27. Enjoy good food, live entertainment and cold beer in the Biergarten. Young families will have lots to do as Stevens Park is transformed into a Kids Village.