Find Your New Furry Family Member! Holiday Pet Adoptions at New Jersey Animal Shelters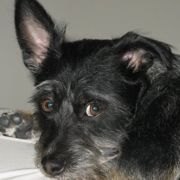 I can't imagine life without our two quirky rescue dogs. Stanley is a mix of at least 3 different breeds and is one of the most intelligent pups I've ever known. Henry is a fiesty Chihuahua/Maltese hybrid of some sort and has bitten everyone from a FedEx worker to our wedding photographer. Each year when the anniversary of their adoption rolls around, I remember all of the animals sitting in cages next to them that we couldn't take home. And then I look at our lazy, spoiled pups as they snooze on the living room couch... and I wish that every animal could be so lucky. New Jersey, like many other states, struggles with pet overpopulation, but it also has some amazing shelters and rescue groups that host all sorts of fun holiday adoption events.
It pretty much goes without saying that we all have a LOT going on during this season - between shopping, baking and get-togethers in addition to the everyday grind; it's a busy time of year. But if the kids have been begging for a dog, cat or even a guinea pig and your family is committed to giving a pet a loving, permanent home this holiday, read on for 4 awesome New Jersey shelters where you can find your new furry best bud.
Liberty Humane Society (Jersey City, NJ)
Nestled next to the Light Rail Station on the outskirts of Jersey City, Liberty Humane Society is a small not-for-profit with a big heart. In addition to faciliating low-cost spay and neuter programs, the shelter deals with challenging inner-city issues such as managing the feral cat population and pit bull rescue and education. The LHS has decided to extend their popular 'name your adoption price' campaign that began back in October. Choose your family's perfect feline or canine match and then pay what you can. Not a bad deal!
Can't adopt? Check out the LHS's wish list and take the kids along to shop and then drop off your donation - they always need canned cat food, blankets and towels and even office supplies such as copy paper and clipboards. And be sure to check out their 2013 Liberty Tails calendar for any animal lovers in your life.  Each month features a different dog or cat and their heartwarming story (and of course, proceeds go towards the shelter!) For more information, please call 201-547-4147.
Monmouth County SPCA (Eatontown, NJ)
The Monmouth County SPCA is a private non-profit powerhouse with two adoption centers (in Freehold and Eatontown), spay & neuter clinics, dog behavior classes and pet therapy programs. Lisa Mulhearn, PR coordinator for the shelter, says the entire staff is looking forward to their annual holiday adoption drive: "Home 4 the Holidays is a great way to help place our adoptables into homes just in time for the holidays.  While we want to see all of our homeless pets have their holiday wishes come true finding their forever home, we do not promote giving a pet as a present. Choosing a new family member is a full family decision, because it is a life long commitment and one that will impact the total family lifestyle." Stop by the shelter to have a look at their pups and kittens this Friday, November 30th from 5-8pm, Saturday, December 1st from 12-8pm or Sunday, December 2nd from 12-6pm. Before you take home your new family member be sure and check out the holiday story time with certified pet therapy dogs, the bake sale, photos with Santa Paws and more - definitely a day of fun for the whole gang, whether you end up adopting or not! Please visit their 'Home for the Holidays' event webpage for more info or call 732-542-0040.
Home for Good Dog Rescue (Summit, NJ)
Home for Good Dog Rescue doesn't care for their strays in a shelter, but is made up of a network of hard working volunteers that open up their homes to foster needy dogs. Taken from high-kill shelters around New Jersey, the pups are nursed back to health both physically and emotionally in loving environments until they find their forever home. Home for Good will be hosting a special holiday adoption event on Saturday, December 1st & Sunday, December 2nd from 11am-4pm on both days at the PetSmart in Millburn. Take a look at some of the adorable dogs available for adoption. If you can't make it this weekend, they'll be hosting a holiday adoption event (including doggie pics with Santa!) almost every weekend in December.  Rich Errico, one of the organization's founders, is passionate about matching potential adopters to the right animal: "The holidays can be a wonderful time to bring a needy pet into your home, but we want to make sure it's not an impulsive decision. We're looking to find permanent homes with loving owners. Bring the whole family to one of our upcoming events and we'll work with you to find the perfect dog for your family." Can't adopt? Visit the Home for Good donation page - they need everything from gift cards to crates to cleaning supplies to keep on doing the life-saving work they do. For more information, please call 908-598-8212.
Pet Rescue of Mercer (Hamilton, NJ)
Pet Rescue of Mercer serves as a liaison between the many shelters in Mercer County and New Jersey families looking to adopt. This no-kill rescue is a grassroots organization that's on a mission to stop the euthanasia of homeless dogs and cats through community education and adoption. They're careful about the families they select to adopt their dogs and cats - both a thorough application and home visit are required to ensure a perfect fit with each owner. Pet Rescue of Mercer will be making the rounds at several local events this December, like the Holiday Craft Show at West Windsor High School this Saturday, December 1st from 9:30am - 3pm. Check out their full events calendar and take a sneak peak at their pets that are waiting for a good home.
Can't adopt? Make a tax deductible donation via PayPal. Or if you're still undecided about adding a furry family member into the mix, look into becoming a foster family and give an animal a place to stay for the holidays. Visit PRM's foster page to find out how.
Want to make sure you adopt the perfect furry friend for your family? Check out these helpful tips before you head to a shelter.