Family Game Night! NJ Toy Store Recommends 5 Great Board Games for All Ages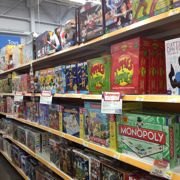 Now that our family has settled into a busy fall routine (work, school, dinner, repeat), we're usually so wiped out we fall asleep before we get a chance to spend any quality time together. This got me thinking back to my own childhood and the fond memories I have of playing classic board games like Candyland and Monopoly with Mom and Dad. My husband and I are excited to bring back the old-fashioned 'game night' with our children--read on for 5 great suggestions for your own!
We spoke with Tracy Kuchar, owner of the awesome Jackrabbit Toys in Sea Girt, New Jersey to get some great board game suggestions for every age group, guaranteed to get the whole family involved.
Kids on Stage by University Games (ages 3+)
Kids on Stage is a charades-like game for 2 or more players that requires no reading - perfect for the preschool set, but still engaging for older kids too. Laughs are sure to ensue as family members take turns acting out different animals, objects and actions from picture cards. The perfect game for the family who wants to get up and move around the living room.
Dino Bump by Luvyduvy (ages 5+)
If you've got grade school-aged kids that are dinosaur crazy, this is the one for you! Using dino action figures as game pieces, players will battle their way into a dinosaur cave. If your family's a fan of the classic Chutes & Ladders, this is a similar format but with a prehistoric twist.
Fast Track by Blue Orange Games (ages 5+)
More of a mini-sports field on your coffee table than a board game, Fast Track will have energetic kids cheering on their team as they catapult little wooden disks across the track. Rumored to be very addictive, this game requires skill to propel pieces from the elastic band using a single finger. Only 2 players can compete at a time so Fast Track might be good to break out for a little quality parent/child one on one time or if the whole gang wants to participate, do a winner plays the next round type of thing.
Go Nuts! by Gamewright (ages 8+)
Throw a little math into your family game night with Go Nuts! Players roll squirrel and dog dice in this lively game as they battle to see who can reach 50 points first. Kids will giggle when they call out "Go Nuts!" or "Woof Woof Woof" at various points in the competition. Since the pieces consist of little more than a notepad and dice, this is a great game to bring along on vacation or to grandma's house for the holidays.
Scattergories by Hasbro (ages 12+)
An oldie, but such a goodie! If you've got a group of quick-thinking, competitive teens and adults, you can't go wrong with this classic. A 20-sided die determines each round's letter and players have to name things in 12 categories with the given letter as the timer ticks away. You're sure to have a good laugh as family members struggle to find quirky words and defend their often-outlandish choices.
Stop by Jackrabbit Toys at their Sea Girt or Shrewsbury locations to pick up a board game.
Check out this article from Modern Mom for more family game night tips.