Dive In! Indoor Swim Lessons in New Jersey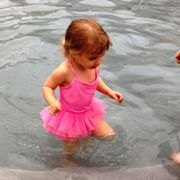 My mother always likes to tell people that I could pretty much swim before I could walk. Now maybe that's a slight exaggeration, but growing up in Miami - the land of backyard pools and endless beaches – some of my first memories were sticking my toes in the warm sand or giggling with glee as I dove into my grandparents' pool. Now that my hubby and I have made the decision to raise our family in the wintry Northeast, I realize that cold weather doesn't stop New Jersey kids from making a splash. After all, what child doesn't want to shed the bulky winter coat and boots and dive into the pool each week to splash, laugh and do the backstroke? Not only is learning how to swim at an early age important for safety and a great way to stay fit, it's just plain fun! Check out our list of awesome New Jersey indoor swim schools that promote water safety as well as good times in the pool.
Berkeley Aquatic Club (Berkeley Heights, NJ)
Berkeley Aquatic Club comes highly recommended by many moms in the know and for good reason – from the first Parent & Me class (ages 3-4) to their Dive Certification classes and competitive teams, the club takes an athletic approach to the sport. Swim lessons for beginners are first and foremost about water safety and drowning prevention, while aiming to make little ones comfortable in their first few years of lessons. If you've got a busy schedule (or siblings with different swim levels), Berkeley offers an impressive array of classes and times. Parent & Me classes focus on floating, kicking and basic arm strokes. From there, 4 & 5 year olds can move on to the independent Get Wet classes to continue familiarizing themselves with swim basics until they are ready to delve into the formal program starting with Beginner I. Check out schedule and registration info for the 2nd Spring session, beginning May 13th. Berkeley also offers private swim lessons for individuals with special learning needs and lessons for home school groups too. For more information, please visit the Berkeley Aquatic Club website.
Into the Swim (Various locations in NJ)
Into the Swim has a relaxed, yet professional approach to swim school, both in philosophy and scheduling. First and foremost, they want kids to have fun during lessons, ensuring that they not only want to learn but want to come back each week! You can choose from 9 indoor pool locations all over New Jersey, from Toms River to Woodbridge to Princeton. Children are placed into one of their classes based not only on age, but on skill level and individual needs. And most classes only have 3 kids, giving students the best of both private instruction and socialization in small groups. Vice President Dale Miller says their tried and true methods are great for toddlers all the way through teens: "We teach the same techniques to 2 year olds as we do to adults, just on their level. Our experienced instructors go at the pace of the kids, letting their skill and comfort levels be the guide." Into the Swim has 12 levels of achievement to track students' progress, allowing parents to measure their child's success and giving kids an incentive to keep growing and challenging themselves in the pool. Baby & Me classes and a competitive swim team are also available at the East Brunswick location. And probably the best part about Into the Swim is their rolling admissions. Just call and enroll when you decide that lessons are in order. For more information about classes and registration, please call 732-287-0200 or visit Into the Swim's website.
American Woman Fitness Centers (Oakland, NJ and Westwood, NJ)
American Woman Fitness Centers have a solid swim instruction program at both of their north Jersey locations in Oakland and Westwood. Small classes (usually no more than 3 children) ensure lots of one on one attention. They also try and have the same instructor present for every class in a session to maintain consistency and a comfortable environment for wee ones. Babies as young as 6 months can start the Mommy & Me classes for an intro to water and water safety. From there, kids can move on to take more advanced classes in either 8 week sessions or sign up for single sessions too. American Woman's Fitness even hosts pool parties on weekends at both their locations for private birthdays, sports teams and Girl & Boy Scout troupes. For more information on registration and classes, please call 201-405-0555.
YMCA of Burlington and Camden Counties (Mt. Laurel, NJ and Burlington, NJ)
This joint YMCA serving the southern Jersey counties of Camden and Burlington offers workout facilities, summer camp and child care to busy families in the area. Swimming lessons at both of their locations (Mt. Laurel & Burlington) are divided into specific age groups spanning from 6 months old to teenagers – they've even got swim classes for mom and dad! The parent/child classes (for wee ones aged 3 & under) focus on basic water skills in a positive environment filled with games and song. Preschool swim lessons take it to the next level, focusing on conquering water fears and encouraging children to begin to swim short distances on their own. Those that are ready will begin to learn individual strokes such as the sidestroke and breaststroke. Preschool program graduates will move onto the Youth Program and move up through appropriately titled levels such as Minnows and Guppies as they become more confident swimmers. Laura Wilson, Assistant Director of Aquatics at their Mt. Laurel location, says kids will feel comfortable right off the bat: "Our instructors really take a child-oriented approach to teaching. We focus on fun, as well as learning." The YMCA also offers American Red Cross Certification training at their Burlington location and special needs swim instruction at both pools. For more detailed class descriptions and registration information, please visit the YMCA's website or call 856-234-6200 x220.
JCC of Central New Jersey (Scotch Plains, NJ)
Whether your little one is a first timer in the water or you've got a grade-school aged kid looking to burn off some after school energy in the pool, the Central Jersey JCC promises a class to fit your need. The 25 yard competitive-style indoor pool is open year round and their 20 yard outdoor pool is open Memorial Day to Labor Day. The JCC instructors follow the American Red Cross Learn-To-Swim program which stresses safety and solid swimming skills by teaching strokes, turns and even diving progressions appropriate to each age level. Babies can venture into the water for the first time with mom or dad in their Water Babies or Aqua Tots program and from there try out the Seahorse classes for toddlers and preschoolers. And if your little one develops a real interest in the sport, the J has a wonderful competitive swim program – Mini-Barracudas (ages 5-8) get a feel for competitive swimming, Intra-Cudas (ages 8-10) learn the techniques and stamina it takes to compete as they ease into a more rigorous schedule and the full on Barracudas swim team (10 & up) begin the competitive season in November, ending with State Championships in March. For more information on both baby/toddler and competitive swim programs, please visit the JCC of Central New Jersey's website or call 908-889-8800