Craft Box Deliveries for NJ Kids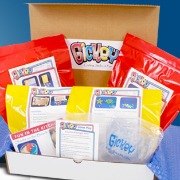 How many times can you ask yourself "What are we going to do today?!" The cold and rainy/snowy weather doesn't allow you to venture to a local park to burn off that endless energy,  the trips to the museum, movies and bouncy houses can add up, and you've basically just run out of ideas. To keep your little ones entertained, invest in one of many craft box deliveries. It's cheap. It's easy. And best of all, it's delivered! 
 
Kiwi Crate 
Kiwi Crate was built out of a passion for hands-on fun that encourages creativity and curiosity in children. For $19.95 (free shipping) a month, your little one will receive a themed craft box with at least two projects. From growing gardens to colorful inspiration, Kiwi Crate's projects will include arts, crafts, science activities and imaginative play. Subscription options include a sibling add-on ($7.95 per month). 
Kiwi Crate also supplies party favors, provides gift options and sells single themed crates. These boxes are designed for ages 3-7.
 
BabbaBox
Supplying activity boxes for kids, BabbaBox encourages kids to create, explore, connect and story-tell. An annual subscription costs $19.99 per month, while a one time delivery runs $39.99. Each delivery includes crafts, books and activities to create memorable experiences.
 
Green Kid Crafts 
Green Kids Crafts delivers a fun and earth-friendly craft kit each month. These projects boxes, designed for ages 3-8, will help build confidence, increase creativity and introduce kids to the wonders of nature. Green Kids Crafts believes in the growth of the whole child, so they follow their Happy & Healthy Child criteria. Options include monthly subscriptions ($19.95 a month), group craft kids, gift subscriptions and special craft kids.
Citrus Lane 
Citrus Lane allows you to personalize your child's delivery box (from newborn to age 3). Tailored to your little one's development stage and gender, these surprise gift packages will include toys, books and snacks. Price options start at $25 per month.
 
Gickey 
Starting at $39.95 per month (free shipping), Gickey offers monthly collections of crafts and activities designed to provide the busy family with fun and creativity. Gickey also supplies the Gickey Grandparent Toolbox and the Gickey Sitter Toolbox for constant entertainment. 
Kelly Kits 
The cheapest of the bunch, Kelly Kits delivers a full craft package for just $9.99 a month. With a motto of "Go beyond coloring books," Kelly Kits supplies art play activities, including painting, sculpting, drawing, printmaking and collage. 
Gift packs, birthday party packs, as well as a sensory edition gift packs, geared for those with sensory integration issues are also available.