Comic and Cartoon Drawing Classes for Creative NJ Kids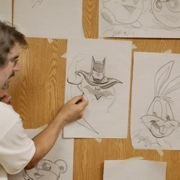 Do you have stacks of stories your kids have drawn for you? Does the spelling in all the thought bubbles make you fear for your child's future? (Maybe that last part is just at my house.) If you have a budding Stan Lee, Hayao Miyazaki or Becky Cloonan, there are loads of classes in New Jersey at great studios and arts centers that will teach your youngster the basics of cartoon, comic book and even picture book illustrations and storytelling. Maybe they'll even learn how to spell 'mwah, ha, ha, ha!!" correctly.
The Art School at Old Church (Demarest)
This art school and fine art gallery, housed in a 19th-century church building, offers classes for the whole community that range from photography to pleinair painting to sculpture and yoga. And yes there's even a cartooning class! This class (8-10 years) will first teach kids how to draw their favorite characters, and then set them loose to create their own story. Color and technique will also be explored. This 10-week class begins April 3rd, $190.00 + $25.00 materials fee. 
Similarly, there is a Picture Book Art (7-9 years) class where children will make projects including puppets, collages, paintings and sculptures inspired by well-known illustrators, concluding with students making their own book. This 10-week class begins April 2nd, $190.00 + $25.00 materials fee. Enroll here, or call 201-767-7160 for further information. 
Arts Guild of New Jersey (Rahway)
The Arts Guild offers a Manga/Japanese Anime class and a Cartooning for Kids class. Prices range from $85-$105. They have not yet listed their spring sessions. Please call (732) 381-7511  for further information.
The Art Garage (Montclair)
The Art Garage, Home of Studio Kids Art Classes, fully embraces the comic book and cartooning world with a slew of classes covering a variety of different styles. Classes include Comic Origins (6-8 years), Action Comics (9-11 years), Manga 101 (8-10 years) & 102 (9-11 years) and Super Heroes and Villains (6-8 years). The 9-week classes begin the third week of March, $150.There is also a Super Secret Comic Book Club, which for $25 includes an Avatar, a sketch pad, free entrance to New York ComicCon and other goodies. A comic book lover's dream!  Enroll here, or call 973-744-6484 for further information. 
Creative Hands Art Studio and Atelier (Madison)
This sweet studio specializes in classes for all ages. Their cartooning class is taught by cartoonist Doug Fader and first teaches kids the basics, and then lets them run wild to make their own characters and stories, including comic books and cards. The class is a balance between structured time spent learning skills and free drawing. This 9-week class begins March 12, $345. Enroll here, or call 908-604-0773 for further information. 
Visual Arts Center of New Jersey (Summit)
The Visual Arts Center is dedicated to making, seeing and learning about contemporary art. To that end they offer classes and workshops for kids and adults alike, including comic book art. Both the class and the workshop will delve into how to tell a story in a strip – including artwork, copy and character development. The workshop (ages 9-12) is one week beginning March 3rd, $40 + $5 materials fee. The 10-week course (ages 6-9, ages 9-12) begins April 11th, $247 + $35 materials fee for non-members. Enroll here, or call 908-273-9121 for further information. 
Small Factory (Fair Haven)
We're big fans of Small Factory, so we're sure their six-week stretch of Cartooning classes are probably pretty top-drawer. Kids 6+ will learn character development, perspective, background design, and movement drawing while developing their own comic strip. Saturdays, 10:30, 11:30 and 12:30. $160, register here. 732-212-1088.